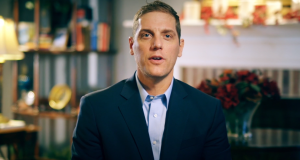 The National Republican Congressional Committee added 7th Congressional candidate Marty Nothstein to its "On the Radar" program.
"As an Olympic champion, small businessman and community leader, Marty Nothstein perfectly embodies the values of the Lehigh Valley," NRCC Chairman Steve Stivers said.  
Being added to the list does not mean the NRCC will be investing in the race, as they do not get involved in open primaries.  
To get onto the list the candidates had to prove their viability by hitting certain marks in fundraising, messaging and communications.
"I'm honored to welcome Marty to our Young Guns program, and I know he will bring his unparalleled work ethic to Congress," Stivers said.  
Nothstein is running against Republican Dean Browning in the primary.