By Natalka Karaman, Contributing Writer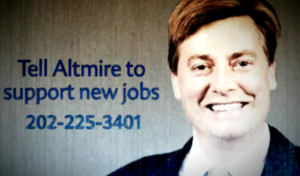 They don't just have each other to worry about.
The National Republican Congressional Committee launched a brief national campaign Tuesday via web ads and robocalls attacking Democrats who opposed the Keystone XL oil pipeline.
The NRCC focused on five labor-heavy districts, including those of Reps. Jason Altmire (D-Allegheny) and Mark Critz (D-Cambria) and emphasized the union jobs that would be created by the pipeline.
They GOP was hoping to sway more Democratic support for legislation that combines the payroll tax cut extension with authorization of the Keystone XL pipeline, which would transport crude oil from the tar sands in Canada to refineries on the gulf coast. Altmire and Critz each broke with their party in July to vote for a stand-alone measure for the pipeline.
This week's campaign is a bit of brinkmanship from the GOP – President Obama and Democratic leaders had each said that they would not consider a bill if Republicans lumped in the pipeline issue.
On Tuesday night, the measure passed the House by a vote of 234-193. Neither Altmire, Critz, nor any of the five targeted Dems voted in favor.
Nat Sillin, NRCC spokesman said, "Jason Altmire and Mark Critz are under increasing pressure from fellow out-of-touch Democrat leaders in Washington who would prefer that they vote against this union backed bill that will raise taxes on Pennsylvania working families and stop job creation in its tracks."
Altmire spokesman Richard Carbo said the Congressman isn't too worried.
"We haven't heard much response from the robocalls," he said. "Congressman Altmire is already on record as supporting the Keystone XL project, but that's not what yesterday's vote was about."
Critz's spokesman, Matthew Mazonkey, agreed.
"These are baseless attacks. Mark supports the Keystone XL Pipeline, and in fact, he wrote a letter to the President in October outlining his support for the pipeline permit."
Here are the ads. As of press time, they had gotten a combined 82 hits.