By Caroline Johnston, Contributing Writer
The National Republican Senatorial Committee (NRSC) released a video this week featuring 2006 campaign comments from Democratic Senators they're targeting in 2012.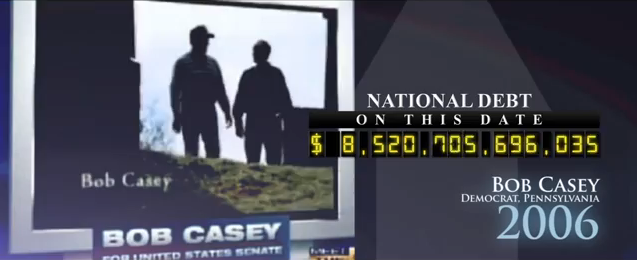 The video is called "Democrats' Budget Plan – 'Blank Check,'" and shows a 2006 Casey campaign ad in which the Senator said the government should "live within its means," like a small business would.
It's a before-and-after spot, wherein the GOP compares campaign statements to recent comments about the debt ceiling and budget for Senators deemed vulnerable in 2012 (Claire McCaskill of Missouri, Sherrod Brown of Ohio, John tester of Montana, and Bill Nelson of Florida). Their comments appear against a backdrop of the National Debt Clock.
However, in a testament to Casey's generally difficult-to attack-style, the GOP didn't include a "gotcha" quote from the Senator.
So far, aside press releases and web videos, Republicans have had a tough time threatening the incumbent. A recent poll showed Casey comfortably leading a hypothetical GOP challenger, meanwhile headlines about GOP recruiting efforts have abounded. To date, Marc Scaringi and Laureen Cummings are the two declared candidates in the race.
http://youtu.be/m9o41vLMpeA