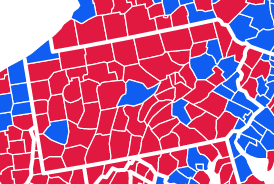 Pennsylvania is set to be the tipping-point state this November.
That is the belief of Toni Monkovic of the New York Times' Upshot and David Rothschild of PredictWise.
"Based on the PredictWise state polling probabilities, the entire election could boil down to Pennsylvania," Monkovic began his first question to Rothschild. "If Hillary Clinton wins the state, she'll probably be president. If Donald J. Trump wins there, he'll probably be president."
"Pennsylvania has been the most likely tipping-point state since midsummer," Rothschild answers.
"Every day, I run 100,000 simulations of the election," he continues. "And every day since late July, Pennsylvania has been the state that most frequently is won by the candidate who wins the election. Currently, there are just 6 percent of scenarios where Clinton wins Pennsylvania but loses the election, and just 3 percent of scenarios where Clinton loses Pennsylvania and wins the election."
It's important to note that the tipping-point designation doesn't mean that the election will come down solely to Pennsylvania (like what occurred with Florida in 2000 and Ohio in 2004). Instead, whoever wins Pennsylvania is likely to win enough other swing states to cross the 270 electoral vote threshold.