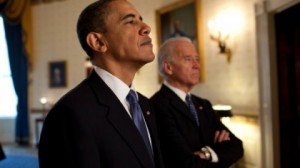 POTUS and VPOTUS are coming to Philly.
President Obama and Vice President Biden are scheduled to take part in a two-day gathering for the House Democrats' policy retreat in the Society Hill district of Philadelphia, according to The Philadelphia Inquirer. The retreat will last from Thursday the 29th to Friday the 30th.
The gathering's purpose is for House Democrats to discuss their plan for the next two years, which will be the final two years of President Obama's term. President Obama will speak Thursday while Vice President Biden will speak the day after.
Local congressmen are using the trip as an opportunity to impress Democratic leaders, with hope that this will improve Philadelphia's chances at hosting the 2016 Democratic National Convention.
The Republican retreat was held earlier this month in Hershey.