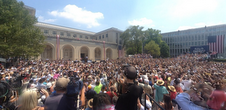 President Obama said his first term as president has been marked by economic victories for middle class Americans during a campaign rally in Pittsburgh Friday afternoon.
Despite afternoon temperatures reaching as high as 98 degrees, 6,500 people turned  to see Obama speak  at Carnegie Mellon University as a part of his "Betting on America" tour.
During his speech, Obama said the U.S. has experienced a slow, yet steady recovery during his term, with the economy gaining 4.4 million jobs – 500,000 of them in the manufacturing sector.
He added that the 2009 federal auto bailout saved thousands of middle class jobs – a shot at Mitt Romney, who wrote an editorial for The New York Times that editors of the newspaper titled "Let Detroit Go Bankrupt."
"Over the last three years, when some folks said 'let's let Detroit go bankrupt,' we said 'no, we're betting on the American worker.'" Obama said.
"We're betting on American industry, and now, [General Motors] is back and number one."
Andrea Saul, Romney's campaign spokesperson, said in a press release that Obama's policies have contributed to a slow economic recovery.
"It's been two years since President Obama visited Carnegie Mellon University and promised that the economy 'is getting stronger by the day,'" Saul said.
"But after 41 straight months of unemployment above 8 percent and widespread weakening across our economy, it is more clear than ever that President Obama's policies are holding us back from a real recovery."
Obama said the future of the U.S. depends on a strong middle class, and that government investment in education and health care fueled this sector of society. He added that the November presidential election presents a choice between a country that caters to wealthy members of society or one where opportunity is equal.
"The question for all of you, at this moment, is: How will we determine our direction? Not just for the next year, not just for the next five years, but for the next decade; the next two decades," Obama said.
"Because this election is not just about two candidates or two parties. It's about two fundamentally different visions of where we take America, and the stakes could not be higher."
Using Carnegie Mellon as an example, Obama said the U.S. needed new investments in "advanced manufacturing research" beyond the automotive industry. He also said the U.S. needs a tax code that awards domestic investment.
"We can change our tax code to make sure that instead of giving tax breaks to companies that are shipping jobs overseas, let's give tax breaks to companies that are investing right here in Pittsburgh," Obama said.
Sen. Bob Casey also spoke shortly at the event about Pittsburgh's history as a working-class city with a strong middle class.
"We meet here today in Pittsburgh, in a region that is known for many things, like hard workers. It's also known for a history of heritage and sacrifice," Casey said.