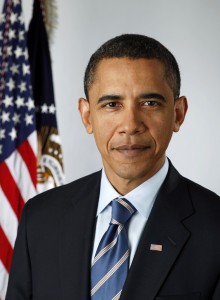 Obama is taking advantage of Independence Day to launch a bus tour, patriotically titled "Betting on America," through western Pennsylvania.
The tour, which begins July 5, will focus on Obama's efforts to stimulate the job market and revitalize the economy, highlighting term achievements like the salvation of the auto industry.
As the presidential campaign quickly shapes into a battle of economic know-how, the Obama camp will also use the tour to sell its economic strategy for the next four years.
Obama for America released a statement Tuesday saying the President will talk with voters "about the choice in this election – whether we want to grow our economy from the middle out, not the top town. The President is rebuilding an economy meant to last – one that restores middle class security by investing in education, energy, innovation and infrastructure and reforms the tax code."
The Obama camp has three planned Ohio stops: first in Maumee, then to an unfortunately named "Betting on Sandusky Ice Cream Social" event in Sandusky, Ohio before wrapping up in Parma Thursday. The next day he will make his way to Pittsburgh.
Former Ohio Governor Ted Strickland said in a press call that before Obama took office, the country was losing 750,000 jobs a month – 25,500 of those jobs were in Ohio with unemployment in the double digits.
"Thanks to the President, Ohioans are going back to work," he said, adding that employment there has gone down for 10 consecutive months, and that it is lower today in every county than it was a year ago.
The Romney campaign, however, is as skeptical about Obama's bus tour as they are about his policies.
Last week while speaking in Virginia, Romney cast heavy criticism on Obama for what he said is a serious failure of priorities. He said Obama placed health care reform before the economy, citing the 8 percent unemployment rate over the last 40 months.
PA Romney spokesperson Kate Meriwether shared Romney's sentiment, publicly referring to Obama's next campaign move as the "Middle Class Broken Promises" tour. Meriwether also drew special attention to the needs of Pennsylvanians, claiming that Obama has indirectly hindered economic growth in PA by attacking one of its most profitable sectors: the energy industry.
"Pennsylvanians are looking for leadership and not four more years of broken promises under President Obama," she said.
PA Democratic Party Chairman Jim Burn said Obama is making a stop in Pittsburgh on a college campus because he was there four years ago as then-Senator Obama. Burn also said Carnegie Mellon is a great venue to bring in college students who, thanks to Obamacare, will be able to stay on their parents' insurance plans even after they graduate.
The Obama camp's National Press Secretary Ben LaBolt said the city is a beacon of hope for the economy.
"Pittsburgh has been a success story for other cities and towns across the Midwest," he said. LaBolt added that the college is a great example of the areas in which Obama wants to invest, citing the school's engineering program.
And despite Obama's undervote problem in the state, LaBolt said that while the campaign takes nothing for granted, Obama did well considering the primary wasn't competitive. He also said that Obama got more votes in the primary than all the Republican candidates combined – and that turnout for Romney in the primary was especially low.
The Carnegie Mellon event is free and open to the public, but tickets are required for entrance.