President Barack Obama's campaign team released an advertisement in Pennsylvania Monday, touting the President's dedication to the middle class through his support of the 2008 General Motors bailout.
The 32 second clip, titled "Succeed," subtly jabs after presumptive Republican presidential nominee Mitt Romney took credit for the auto industry bailout during an interview last week with a Cleveland-area news channel.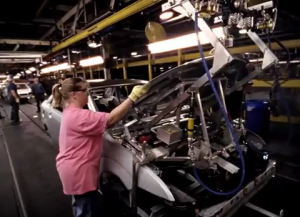 In the interview, Romney said he called for a managed bankruptcy process for GM and Chrysler before using government intervention. He added that President Obama and the autoworkers union delayed the process.
"I'll take a lot of credit for the fact that this industry's come back," Romney said.
Obama's campaign hoped to highlight Romney's change in stance on the issue after the former Massachusetts governor wrote a column for The New York Times in 2008 titled "Let Detroit Go Bankrupt" (a title chosen by NYT, not Romney – he had submitted it as "The Way Forward for the Auto Industry").  In the column, Romney said a federal bailout of the companies would perpetuate their structural inefficiencies.
Feeding off Romney's words in the column, Obama said he decided to endorse the federal bailout of GM despite the potential negative political consequences due to its lack of popularity. During a February 2009 Gallup poll, 77 percent of respondents disapproved of the bailout. Obama said implications of allowing the companies to go bankrupt forced him to ignore the political risk.
"The decision to intervene with the auto industry was not popular," Obama said. "But I was convinced it was the right thing to do because it wasn't just a million jobs that were at stake. It was also part of what built our middle class, creating products stamped with those words 'Made in America.'"
Romney's objection over the auto industry bailout has proven to be a weakness for his campaign, after GM and Chrysler experienced record profits over the last three years. Prior to last week's interview, Romney maintained his disapproval of the federal bailout.
Asked about the ad, his campaign stuck by his initial stance.
"President Obama has failed to live up to the promises he made in his 2008 campaign," said spokeswoman Sarah Pompei. "Mitt Romney proposed the right course for the automakers – a structured bankruptcy process to allow them to emerge as sustainable and profitable enterprises."
"We deserve better from our president than campaign ads designed to cover up record-high unemployment, falling incomes, and out-of-control spending and debt."
Looking to portray Romney's original stance as an attack on middle class workers nationwide, Obama said the recovery in Detroit reflected the spirit of workers across the country.
"What happened in Detroit can happen in all sorts of communities, where when you combine American innovation with the best workers in the world, we can succeed," Obama said.