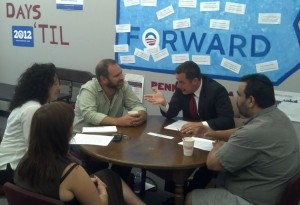 The Obama campaign released a series of spotlights on Pennsylvania small businesses, highlighting how President Obama's policies have benefited them.
The spotlights include profiles of small businesses, tours and roundtable discussions. Each business in the spotlight told their stories of success thanks in part to President Obama's policies.
The event started July 25, and wrapped this week with a spotlight on Pamela's Diner in Pittsburgh.
Yesterday State Senate Democratic Leader Jay Costa (D-Allegheny) joined three local small business owners at Pamela's Diner in Pittsburgh. Co-owner Gail Klingensmith said her Pam Cohen's restaurants struggled to with growth and expansion beginning in 2006, but that a 2010 provision of the Small Business Jobs Act helped them buy new equipment.
Klingensmith said it allowed Pamela's Diner locations to double the size of their staff, raise salaries for their employees and add new restaurants. They now have six locations and have opened two other restaurants.
"For nearly four years our diner was simply surviving, with no plans to expand—but things changed after President Obama's policies took effect," said Klingensmith. "Our expansion over the last two years has made me realize how much it matters to have a President in office who cares about small business owners and middle class families.".
Other small businesses that were spotlighted include:
Young's Garage Inc.
Owner: Joshua Young
West Chester, PA
Since Obama took office, Young has been able to provide full health insurance for his employees thanks to the Small Business Health Care tax credit.
"Since our business is turning a profit once again, we're investing in equipment and looking towards larger investments in the near future thanks to President Obama's expansion of small business expensing limits," said Young.
Crenshaw Bros. Construction
Owner: Don Crenshaw
Erie, PA
Crenshaw's business was on the brink of total collapse, but thanks to multiple public investments, including the Recovery Act, Crenshaw said he has added more than 50 employees since 2010 and made $10 million.
"During the recession, Crenshaw Brothers was on the verge of collapse, but President Obama's support for small businesses and investment in the middle class economy helped us rebound and acquire more business than we've ever had before," said Crenshaw.
Manus Sunoco Gas Station and Mini Market
Owner: Denice Manus
Erie, PA
While the financial crisis hit Manus hard, she said her business weathered through the crisis and continues to see improvement today.
"Because of the President's commitment to small business owners, we've been able to recover from the recession and begin expanding our business again. As the economy has rebounded, our customers have returned and business is now doing well," said Manus.
Abeer Kronawetter
Pittsburgh, PA
Kronawetter owns a restaurant in McMurray. She said her business was financed by President Obama's Small Business Administration, and now employs over 30 people.
"After three decades of job security, the financial crisis threw my life into chaos in 2007—but I never lost hope. I moved my family to Pennsylvania, and took matters into my own hands after seeing an opportunity in a loan backed by the Obama Administration," said Kronawetter
Paul Beale's Florist
Owners: Paul and Altermese Beale
Philadelphia, PA
The Beales have been in business for 40 years. Their business is thriving in this economy thanks to help from the Small Business Administration.
"The flower industry is one that really comes and goes depending on the economy, when times get tough people cut back, and we saw that in 2008 to 2009.  Our customers are not the 1 percent, they are working and middle class residents, and President Obama is proposing policies to ensure that hard work pays off and responsibility is rewarded."
Victoria's Kitchen
Owner: Vikki
Philadelphia, PA
Thanks in part to the recovery, Vikki was able to take a chance, leave her old job, and open her own restaurant.
"I saw the beginning of a revitalization in the economy, a few people were getting hired back, and people were investing in the neighborhood.  I wanted to leave a legacy to my family and children, and seeing President Obama's commitment to restoring middle class neighborhoods like mine I was optimistic that things would work out, and I was right," said Vikki.
Pretty Boyzz
Owner: Bruce Burton
Philadelphia, PA
Burton is an active owner of his business, helping patrons who enter his shop register to vote. Burton said he credits Obama with a strong record on small businesses.
Brian Frailey
Lancaster, PA
Frailey owns a bookstore in Lancaster, and said he's seen an increase in customers and profit after the recession, thanks to the President policies.
"Once I was finally able to open my store, the financial crisis hit and I was worried about if I could keep my business afloat. Back then I was uncertain that I could support my wife and two children. However, in the past three years, business has improved and I have recently even expanded my store. My customers – middle class residents of Lancaster – are getting back to work and benefitting from President Obama's commitment to restoring economic security for the middle class," said Frailey.
Everyday Gourmet & Fine Food
Owner: Charles Heinrich
Ebensburg, PA
Heinrich said Obama's middle-class tax plans have made a huge difference, and that some of Mitt Romney's remarks from an earlier stop in Ebensburg.
"As a small business owner in Cambria County, I am puzzled by the Romney campaign's attacks on President Obama and their efforts to twist his words around. About 18 months ago, I had the confidence to open my very own small business here in Ebensburg, and since then, I've been able to add more employees," he said, adding that tax breaks have meant lower costs to run his business.
In response, this Saturday Republicans will kick off their second monthly "Super Saturday" weekend, where volunteers across the country will be making in-person and phone contact with voters. Local events will be held in Erie, Beaver and Bucks counties.
Speakers will include Rep. Mike Kelly (R-Butler) in Erie, Rep. Mike Fitzpatrick (R-Bucks) and candidate for state House district 31 Anne Chapman in Doylestown, Bucks County; and candidates Keith Rothfus for PA-12 and Diana Irey Vaughan for Treasurer in Rochester, Beaver County.
John Fluharty, executive director for the Delaware GOP, said small businesses have suffered not just during Obama's term, but that they suffer under Dem leadership in general.
"One of the biggest economic drivers in the state of Delaware is small business, and what you find is, under a Republican administration, is small businesses always start better."
He said that businesses nationally, and at the state level, are finding it "extremely difficult" to survive due to regulations, taxes and oppressive government.