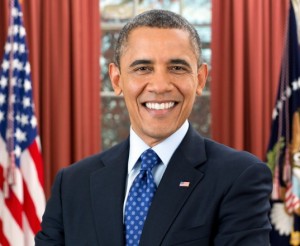 President Barack Obama visited the West Hills Center of the Community College of Allegheny County Wednesday to discuss his plan to expand technical job training and apprenticeship programs throughout the country.
In his address, the President started by proclaiming that CCAC's curriculum and training is something that the rest of the United States should be emulating.
"We're here because CCAC is an outstanding model of the kind of job-driven training we're trying to encourage all over the country," he said.
CCAC has utilized both machines and motors to train students on-site in the arts of mechatronics.
"Now I have to say that I did not know there was such a thing as mechatronics before I came here," the president said in jest. He said that he learned that "it has to do with engineering — how stuff works."
Obama said how he was thrilled that CCAC was training "new workers for new jobs, and better jobs."
"We want to replicate your model across the country," he said to the audience. "You're doing something right."
On Air Force One before the president took the stage, Commerce Secretary Penny Pritzker explained in detail what the administration is hoping to accomplish by following CCAC's model and expanding job-training opportunities.
"Businesses need to define the skill-sets that they're looking for in order to meet their needs," she said. "To do this you have to break silos; we have to break down silos between businesses, between the community colleges and the other workforce training organizations, the universities and local governments in order to deliver these skills."
Obama promised to allocate $500 million to schools like CCAC that are producing job-ready students with readily applicable skills. In addition, the president proclaimed a $100 million competition known as the American Apprenticeship Grant, which would allow apprentices and skilled workers to come together for training and job advancement.
"What we do know is 87 percent of people who go through apprenticeship programs end up with jobs," said Pritzker.
The President touted expanding that type of job placement to the entire country.
Notable Pennsylvania politicians in attendance were Sen. Bob Casey, Rep. Mike Doyle, Allegheny County Executive Rich Fitzgerald,  and Pittsburgh Mayor Bill Peduto.
In response to the President's visits, Republican Party of Pennsylvania Chairman Rob Gleason had this to say.
"Once again, President Obama is using Pennsylvania as a backdrop but he just does not get it," Gleason said. "If President Obama was serious about job creation, he would acknowledge the disastrous consequences of Obamacare on the economy. Obamacare is costing Americans their jobs, their health care coverage and their tax dollars, but President Obama continues to choose his liberal agenda over the harsh realities of his actions."
By comparison, Gleason praised the job that Governor Tom Corbett has done to help create jobs in Pennsylvania.