By Meghan Schiller, Contributing Writer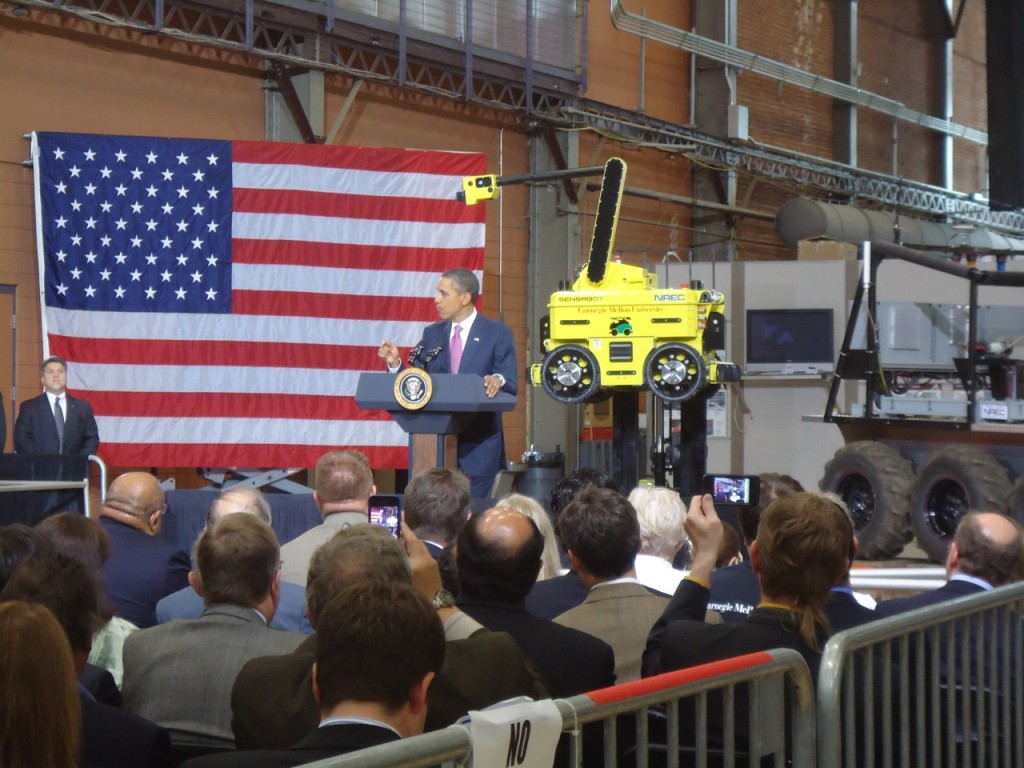 An American flag appropriately hangs from a steel beam in the background at Carnegie Mellon University's National Robotics Engineering Center in Lawrenceville. Only hours ago, President Obama arrived in the Steel City, and spoke to an intimate group of press and invited guests. The atmosphere in the room was more like a reunion of old friends, as guests conversed loudly with much laughter.
At first glance, Carnegie Mellon University's NREC looks like any factory warehouse. But, once inside, it becomes apparent that the building houses the world's largest robotics research and development center.
One can't help but notice the letters "NASA," written on the side of larger-than-life side robot suspended almost 20 feet in the air. The shelves along the inside walls of the warehouse serve as parking spots for the many robotic machines created there.
President Obama, in a light blue suit, white shirt, and red tie, seemed comfortably in his element amongst some of the most creative minds of our time. The members of the Advanced Manufacturing Partnership (AMP) could host the career fair of any young professional's dream. Those in attendance included Andrew Liveris, Chairman and CEO of The Dow Chemical Company, Susan Hockfield, President of MIT, William Weldon, CEO of Johnson & Johnson, Stephen MacMillan, Chairman and CEO of Stryker Corporation and David Cote, CEO of Honeywell.
President Jared Cohen from Carnegie Mellon University, as well as presidents from the University of Michigan, UC Berkeley, and Georgia Institute of Technology completed the impressive academic circle.
President Obama began his remarks by thanking Senator Bob Casey, Mayor Luke Ravenstahl, County Executive Dan Onorato, and State Auditor Jack Wagner for inviting him back to Carnegie Mellon.
Obama talked about the struggles of the middle class saying, "Today, a high school diploma no longer guarantees you a job. Over the past 13 years, about a third of our manufacturing jobs have vanished. And meanwhile, the typical worker's wages have barely kept up with the rising costs of everything else."
The President talked about his vision for the country using the same campaign style language that yielded him a 10 point win in Pennsylvania in 2008. It's his 13th trip to the state since taking office, according to the Morning Call.
"I have a larger vision for America –- one where working families feel secure, feel like they are moving forward and that they know that their dreams are within reach; an America where our businesses lead the world in new technologies like clean energy; where we work together, Democrats and Republicans, to live within our means, to cut our deficit and debt, but also to invest in what our economy needs to grow –- world-class education, cutting-edge research, and building the best transportation and communication infrastructure anywhere in the world.  That's what it's going to take for us to win the future.  And winning the future begins with getting our economy moving right now."
In order to get our economy moving, he called upon the services of his Council of Advisors on Science and Technology (PCAST), paired with the academic minds of the leading engineering schools in the nation. The goal: "a renaissance of American manufacturing."
The most enjoyable reference in his speech included Procter & Gamble's unification with Los Alamos National Lab researchers. They worked to develop software that deals with nuclear particles in order to increase diaper performance.
"Yes, diapers," Obama said with a smile. "Folks chuckle, but those who've been parents are always on the lookout for indestructible, military-grade diapers."
The President ensured his audience that America is currently developing the things of the future. He listed a few: treatments that kill cancer cells, solar cells that can be painted on a house, arm displays for soldiers in combat, and cars that drive themselves.
"It's about making sure our workers and businesses have the skills and the tools they need to compete better, faster, and smarter than anybody else.  That's what we're about.  We are America, and we don't just keep up with changing times, we set the pace for changing times. We adapt; we innovate; we lead the way forward."
His speech complimented the hard work of the Western Pennsylvania region as well as Carnegie Mellon University's ability to create upwards of 300 companies and 9,000 jobs since 1996.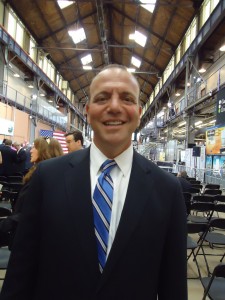 "No one would have imagined that a trade school for the sons and daughters of steelworkers would one day become the region's largest — one of the region's largest employers and a global research university."
The work of researchers at the most notable companies in the nation, he said, paired with the creativity flowing from the minds at our leading universities, will undoubtedly result in America's heightened manufacturing success.
County Executive Dan Onorato voiced the pride of local officials at the President's choice of Pittsburgh – the middle of a key swing area with the reputation of a hard working industrial town – as a venue. "He came here to announce his national policy for manufacturing. This is a big day for Western Pennsylvania."