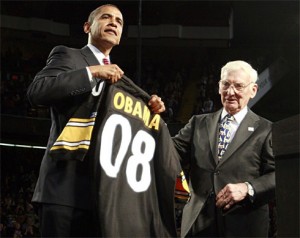 Dan Rooney, U.S. ambassador to Ireland and chairman emeritus of the Pittsburgh Steelers, and Mike Tomlin, the Pittsburgh Steelers head coach, have cast their support for President Barrack Obama.
Rooney campaigned for Obama in in 2008 and will likely resume campaigning activities for the upcoming election after his expected retirement from his post as an ambassador. Rooney's son, Steelers team President Art Rooney II, was among bigwig Dems who rallied around Rep. Mark Critz (D-Cambria) earlier this month for a fundraiser in Pittsburgh.
According to FEC records, both Dan Rooney and Tomlin donated $5,000 to the Obama campaign, the highest amount permissible under campaign finance law. The Pittsburgh Post-Gazette also reports that in November both men gave $30,000 to the Democratic National Committee.