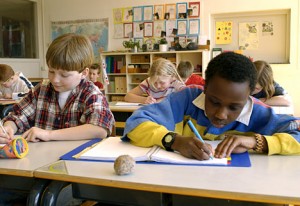 Thursday at noon, PA Democratic officials joined together on a conference call to discuss President Obama's plan for education in both Pennsylvania and across the U.S.
The call included Pennsylvania's 1st Congressional District Representative, Bob Brady (D-Phila), Pennsylvania State Education Association President Mike Crossey and Erie City Councilman and teacher, Bob Merski.
During the call, the three political actors addressed Obama's desire to reform the educational system in the United States, making higher education more attainable for the middle class.
"President Obama has worked to make quality, affordable education to all," said Brady, adding that the educational policies proposed by the Mitt Romney/Paul Ryan ticket would only cripple the students of today and tomorrow.
Crossey said that Obama has already set achievable goals and is working to attain them.
"First, President Obama has set a goal of cutting the college tuition growth rate in half over the next four years."
In addition, Obama will recruit and prepare new math and science teachers to out educate other countries, he said.
The conference call drew to a close with remarks from Erie Councilman and teacher, Bob Merski, who wholeheartedly agreed with the educational reform policies proposed Incumbent Obama.
"As a Councilman and a teacher, I see the sacrifices students and their families make to pursue education" stated Merski.
Throughout the conference call, the men stated the need for "an economy that's built from the middle out, not the top down."
Update: Republicans knocked the administration on education.
"If the promises the Obama campaign are making sound familiar, it's because they are the same broken and recycled talking points President Obama and his supporters gave us in 2008," said Billy Pitman, RNC Spokesman for Pennsylvania. "Education costs are at an all-time high and in the Obama economy, graduates are having to move back in with their parents because they can't find a job."
"While President Obama is indebted to special interest groups, Mitt Romney will pursue genuine education reform that put the interests of parents and students first and makes it easier for graduates to find a rewarding employment and be successful."