October 7th Playbook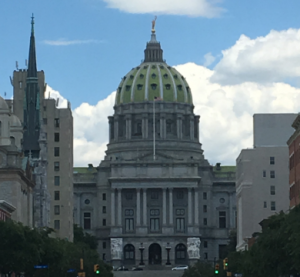 Several candidates have announced their intentions to seek their party's nomination for the special election in the state Senate's 48th District. Here is the Playbook. 
October 4th Ups & Downs: Gov. Tom Wolf signs an executive order dealing with carbon emissions, a bill that would raise the tobacco buying age in the state from 18 to 21 passes the state Senate, and a new poll shows President Trump trailing in a key county. All of that and more are in this week's Ups and Downs.
Harrisburg & DC   
Patriot News: Pa. Bar Association gives thumbs up, thumbs down to 4 state Superior Court candidates
Patriot News: What is a RGGI? A PennLive primer on Gov. Wolf's big move on climate change policy
New York Times: 'I Gave the Other Guy a Shot'
AP: Pennsylvania expands E-Verify rules in construction industry
AP: Governor signs new restrictions on robocalls in Pennsylvania
AP: Pennsylvania reports vaping death, investigating injuries
Inquirer: Ex-Congressmen Pat Meehan, Charlie Dent, and Ryan Costello move to lobbying ranks
Inquirer: Census errs again, makes mistakes measuring poverty nationwide
Inquirer: Pennsylvania reports first vaping-related death
WESA: Five Of Nine PA Republicans Are Involved In Efforts To Censure Congressman Schiff
WITF: Once again, Pa. House will bar nonbelievers from giving invocations
PLSReporter: Q&A: The PLS Reporter sits down for an exclusive interview with House Majority Leader Bryan Cutler
PLSReporter: After court ruling, Sen. Williams looks to ban "safe injection" sites
PLSReporter: House to continue with traditional prayer after court rules they can turn away nontheists
PLSReporter: Did You Get The Memo? Electric vehicle fees, student-athletes and agritourism
PLSReporter: Right 2 Know Episode 25: Sit down with House Majority Leader Bryan Cutler
Beaver County Times: State gets $380K to fight HIV
Pennsylvania Capital-Star: Wolf will allow bill that expands federal immigration work checks to become law 
Pennsylvania Capital-Star: Gov. Wolf signs new restrictions on robocalls in Pennsylvania 
Pennsylvania Capital-Star: Pennsylvania health secretary advises 'extreme caution' after one death linked to vaping 
Pennsylvania Capital-Star: U.S. Supreme Court agrees to hear Atlantic Coast Pipeline case 
Pennsylvania Capital-Star: U.S. Supreme Court takes on high-stakes abortion case
Philly Voice: Six Pennsylvanians named on Forbes 400 wealthiest Americans list
Fox News: House Intelligence Committee given responsibility of handling impeachment inquiry
Philadelphia 
WHYY Newsworks: Mayor Jim Kenney headed to Copenhagen to share stage with AOC, Mike Bloomberg and other top climate leaders
WHYY Newsworks: WHYY staffers file for union election
WHYY Newsworks: Solutions to North Philly's poverty level: New initiative aims to connect more North Philadelphians to employment  
Inquirer: Maureen Faulkner leads protest against Philly DA Krasner over Mumia Abu-Jamal appeals
Inquirer: Philadelphia workers greet new cashless-store ban: 'I feel like we can serve everyone now'
Inquirer: DA Krasner wants to reduce charge in Rittenhouse stabbing case from murder to manslaughter
Inquirer: Fairmount Park's historic Chamounix Mansion youth hostel disputes $480k Philly tax bill
Philadelphia Magazine: A Penn Genetics Professor Wants to Change How We Think About Race
Billy Penn: What's the future of local news in Philly? And why should people care?
Philadelphia Tribune: City Council eyes elimination of Free Library fines, debts 
Philadelphia Tribune: Cheyney partnerships: Some successful, others see no movement 
KYW Newsradio: Faulkner widow appeals to DA directly to recuse himself from Mumia Abu-Jamal case 
KYW Newsradio: City revokes business curfew, settles discrimination suit with Chinese restaurateurs
KYW Newsradio: Kensington group says mobile toilets helping slow hepatitis A infection rate
KYW Newsradio: City opens second round of grants to grassroots efforts to reduce violence
KYW Newsradio: Philly traffic deaths rise despite effort to eliminate them by 2030
Philadelphia Business Journal: How former Colorado Gov. Hickenlooper tried to lure Comcast to relocate its HQ to Denver 
Philadelphia Business Journal: Philadelphia-area lenders discuss what can ruin a loan application, state of lending economy
SEPA
Delco Daily Times: Delco Dems: No plan to cut employee benefits if we win
Delco Daily Times: Delco Council accepting applications for positions on County Jail Oversight Board
Bucks County Courier Times: Reps. Dean, Fitzpatrick and Boyle host PFAS event 
Bucks County Courier Times: Bucks lawmakers introduce custody bill in honor of Kayden Mancuso
Inquirer: In Delaware County, a historic race looms as Democrats seek their first council majority
Pottstown Mercury: Berks County commissioner candidates express goals at forum
Pottstown Mercury: Candidates urged to take election profile survey
Daily Local News: Rep. Otten seeks to amend Pa. constitution for local self-government
Daily Local News: Comitta addresses issues at town hall meeting
Daily Local News: Sappey to host senior expos in Kennett and West Chester
Daily Local News: Coatesville primed for extensive economic revitalization
Pittsburgh  
KDKA: Lt. Gov. John Fetterman To Visit Pittsburgh Before Re-entry Job Fair
KDKA: Pittsburgh Set To Become Second City To Adopt United Nations Sustainable Development Goals 
Post-Gazette: City adopts U.N. sustainability goals
Post-Gazette: Grant to Pittsburgh will help to house homeless in the city
Post-Gazette: Legal battle continues over drilling and fracking wastewater well 
Post-Gazette: Gas drillers, owner of pipeline that exploded in Beaver County stuck together, even as they spar 
WESA: Pittsburgh Adopts UN Sustainable Development Goals, But Peduto Offers Few Specifics
Tribune Review: Former GOP challengers support Doug Chew for Westmoreland commissioner 
Tribune Review: Hampton residents' input sought on future of township
Tribune Review: Fracking well hearing wraps up in Murrysville; decision expected in November
Pittsburgh Business Times: Mayor Peduto: Pittsburgh will adopt UN Sustainable Development Goals
SWPA 
Beaver County Times: Republican hoping to challenge Lamb has criminal record in North Carolina
Beaver County Times: Lt. Gov. Fetterman headlining Beaver County Democrats event 
Beaver County Times: Aliquippa residents face high bills, brown water
Beaver County Times: Planning Presque Isle State Park's future amid climate change
Altoona Mirror: Thousands may be affected by food stamp program changes
Altoona Mirror: Republicans push back on cap-and-trade plan
Observer-Reporter: Local share requests top $27million
Observer-Reporter: Kail to host concealed carry seminar
Observer-Reporter: O'Neal hosts 'pizza and policy' event
Observer-Reporter: Failures at border cross partisan lines, according to W&J grad
Observer-Reporter: PUC session outlines programs for those on limited incomes
Johnstown Tribune-Democrat: Burns' office set to host a concealed carry seminar
NEPA
The Times Leader: Teddy Daniels seeks GOP nomination in 8thl District
The Times Leader: Wolf takes executive action to combat climate change, carbon emissions
The Times Leader: Funding transportation in Pennsylvania has been a bumpy road
The Times Leader: Pedri announces $1 million state grant for 911 emergency radio project
The Times Leader: Robin Shudak withdraws from W-B Area race, remains on ballot
The Times Leader: Former Hazleton city councilwoman Cuozzo dead at 63
The Times Leader: Gazenski on board with mayoral nomination to Wilkes-Barre Housing Authority
Times-Tribune: Scranton's new mayor anything but a 'placeholder' 
Times-Tribune: Scranton School District meets targets, sees progress with recovery plan 
Times-Tribune: Scranton man who wanted to be mayor has died
Citizens Voice: Wilkes-Barre weighing options after being told to boost annual pension payments 
South Central 
York Dispatch: Dem Hammond announces bid to oust Smucker 
York Dispatch: Personal finance courses could fulfill grad requirement in Pa. 
York Dispatch: DePasquale uses York City to warn others of pension funding mistakes
Patriot News: David Lloyd running for Pa. Senate seat vacated by Mike Folmer
Patriot News: York Co. businessman Tom Ryan runs for Pa. Senate seat vacated by Mike Folmer 
Patriot News: Carrie Hyams to replace Kirk Sohonage on ballot for Cumberland County judge
Patriot News: Pa. Bar Association gives thumbs up, thumbs down to 4 state Superior Court candidates
Patriot News: What is a RGGI? A PennLive primer on Gov. Wolf's big move on climate change policy
LNP | LancasterOnline: 'This has the potential to be bad': Lancaster County cheese, olive oil importers worry after trade war hikes prices
Lehigh Valley     
Morning Call: Some Pennsylvanians avoiding, others grappling with the impeachment probe against President Trump
Morning Call: Exercise in futility? Pa. website tallies 16,000 complaints against insurers
Morning Call: How immigrants shaped Northampton County focus of exhibit
Express Times: Republicans and Democrats agree: Students need more trade school opportunities 
Express Times: Oyster Creek. Three Mile Island. How the power grid can lose 2 nuclear plants in a year. 
Reading Eagle: Economy improving in Reading, Berks County, census numbers show
Reading Eagle: How Berks fits in to Pennsylvania's innovation economy
Reading Eagle: Forum measures Berks County commissioner candidates' goals
Reading Eagle: Deadline to register to vote in Pennsylvania in November is today
Reading Eagle: 2020 census is gearing up in Berks County
Reading Eagle: Reading's community development director resigns
North by Northwest
Williamsport Sun-Gazette: Area lawmakers question Wolf's Greenhouse Gas Initiative
Williamsport Sun-Gazette: Court: candidates' names should be public
Williamsport Sun-Gazette: Victims of opioid epidemic gain a voice in lawsuit
WHYY Newsworks: How Penn State is cutting greenhouse emissions in half — and saving money
Erie Times-News: Sen. Brooks seeks moratorium on Polk closing
Opinion  
LNP Editorial Board: On selling pot in state stores, and the imperative to keep our kids from vaping
Inquirer Editorial Board: Legalizing recreational marijuana would make Pennsylvania richer, healthier, and more just 
Inquirer Staff: We asked Tobias Harris and other insiders: Should Pa. legalize paying student-athletes? 
Bucks County Courier Times Editorial: Rep. Todd Stephens' red flag law part of PA gun bill blockage
Tribune Review Editorial: Primaries should be open to all 
Post-Gazette Editorial Board: Audit got it right: System for selling city-owned properties is broken
Post-Gazette Editorial Board: Stop nuisance calls: Legislators, technicians must tackle robocalls
Post-Gazette Editorial Board: Unlikely info is being used for credit decisions
Post-Gazette Editorial Board: Roll up your sleeve: Getting a flu vaccine means better health for all
Post-Gazette Editorial Board: Tight quarters: Airline seats are uncomfortable, but are they unsafe?
Post-Gazette Editorial Board: Should our rivers wait?: Alcosan's $2 billion plan delays past-due solutions
John L. Micek: Pa. out front: How the argument over reparations is moving into state capitols | Friday Morning Coffee
Teresa Miller: The Trump administration's attack on food stamps would hurt Pennsylvanians 
Tim Hartman: Weed in state stores? What could possibly go wrong? | Editorial Cartoon
Mike Newall: Yes, I would like a supervised injection site in my South Philly backyard 
Timothy Williams: How to address Pa.'s looming teacher shortage? Increase teachers' minimum wage
Keith C. Burris: Not yet extinct?
Gene Therapy: As journalism thins its ranks, the corrupt quietly celebrate
Bobby Harr: Recreational marijuana in Pa. long overdue
John N. Mitchell: Christine Coulter is the wrong choice for Philly's top cop. Here's why 
Christine Flowers: City Hall should be ashamed of raising Chinese flag in the name of diversity
Chris Mondics: I lost my son to opioids. Now the drug companies peddling them must be held accountable. 
John Allgood: Paying student-athletes fundamentally changes college sports — and maybe not for the best 
Jim Goodman: Ag Secretary Perdue to small farmers: Stop whining, your demise is inevitable
John N. Mitchell: Some see Christian compassion in 'the hug;' others not so much | Analysis
Signe Wilkinson: Political Cartoon: Angry White House birds
David M. Shribman: Biden should prepare for Granite State test
Ruth Ann Dailey: Manatees and humorlessness
Jenice Armstrong: Cops don't always get the praise they deserve, so friends had a party to honor this one 
Helen Ubiñas: This column left me with a little less hair, but a lot more appreciation for Breast Cancer Awareness Month 
Trudy Rubin: Mitt Romney was first. Will GOP stand up against a lawbreaker in the White House? 
Brigitte Amiri: How laws targeting clinics could end abortion access | Analysis
Tony Norman: Radical forgiveness as a two-edged sword
Michael Coard: Why are Black people so damn forgiving?
Will Bunch: From Baghdad to Kyiv to Haiti, people everywhere are rising up. The U.S. is a big part of the problem. 
Shane Fitzgerald: Road to self-sufficiency isn't always paved