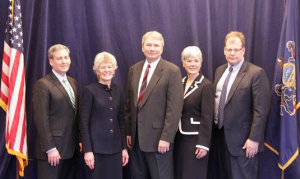 The field of 12 state Supreme Court candidates have just been cut in half with three candidates remaining in both parties.
The top three vote-collectors in each party will run as nominees for what is truly an unprecedented race in the Nov. 3rd general election. Three open seats on the court will most likely not be seen for a long time.
The Republican candidates will consist of Superior Court Judge Judy F. Olson, Adams County Judge Michael George and Commonwealth Court Judge Anne Covey; the top three selections respectively.
These individuals won the PA Republican Party's support back in January.
With 9,038 of the 9,172 precincts reporting statewide (98.53%), Olson led the field with 290,458 votes (22.06%) followed by George with 289,462 votes (21.98%) and Covey with 271,297 votes (20.60%).
The second tier of Republicans seemed to really trail off from the top three.
Superior Court Judge Cheryl Allen only collected 175,200 votes (13.30%) while Montour County District Attorney Rebecca Lee Warren scoured 151,369 votes (11.49%) and surprisingly sitting Supreme Court Justice Correale Stevens finished dead last with 139,144 votes (10.57%).
Stevens was appointed to the bench by then Republican Governor Tom Corbett in June 2013.
Republicans have held a 4-3 majority on the court since 2010 but two of the three open seats were formerly held by Republicans. Going into November's election, each party will have two seats with the opportunity to gain three.