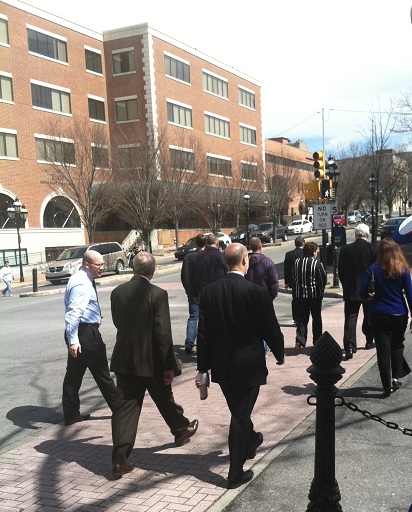 (Bethlehem, Pa.) — Tom Wolf walks down Main Street in Bethlehem, and he stops to talk to some passerby.
"You're Tom Wolf," one exclaims. "We were just talking about you."
And despite his mild-manners and negligent name recognition just a few months ago, you know that Wolf is the frontrunner in the race for the Democratic nomination for governor.
He pops in and out of local businesses, talking to shop owners and cashiers, but he's such an unassuming presence it's clear that he's not lying when he says he's not a typical politician.
His day in the Lehigh Valley began with a stop in at the Hotel Bethlehem before joining his team for a walk up and down Main Street. He was accompanied by Lehigh County Executive Tom Muller, Northampton County District Attorney (and brief Lt. Gov. candidate) John Morganelli, Northampton County Councilman Lamont McClure, Lehigh County Councilman Geoffrey Brace and Bethlehem Mayor Bob Donchez – all of whom endorsed Wolf after the tour.
Donchez showed Wolf some of the hot spots on the main drag of his city – including the Historic Bethlehem Visitor's Center where he showed him some old photos of Bethlehem; a new steakhouse where Wolf met the owners, waiters and line cooks; a running shop where Wolf talked about shopping for his daughter's shoes to run cross country in high school.
It was a beautiful day and Wolf stopped to talk to people milling in and out of the retail shops – though unfortunately for Wolf, a good number of them were out-of-staters.
The tour ended back at the Hotel Bethlehem where the cohort of Lehigh Valley elected officials endorsed Wolf.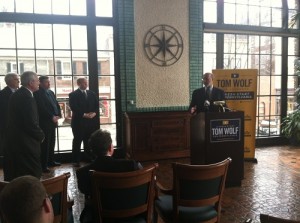 "I'm new to this, but good people supporting you and saying good things about you is a nice thing," Wolf said to the small audience, and there were no shortage of nice things said about Wolf by each of the politicians endorsing him.
"Eighteen months ago, I had a conversation about Tom Wolf," Morganelli said, staking himself out as an early supporter of the now-leading candidate. "I said [then] that he would an excellent candidate."
"Frankly, it's quite simple [why I'm endorsing Wolf]," McClure stated. "Northampton County needs a partner in Harrisburg."
"As a new father, I have to look to the interests of Lehigh County but also to the future of our children," Lehigh County Commissioner Geoff Brace explained as his reason for supporting Wolf.
So it continues, and as complementary as his hosts were, Wolf returned the favor in his remarks.
"I'm a fan of cities. I spent most of my adult life trying to do with York what you've done with Bethlehem," Wolf said, and talked more about his work with Better York and his hopes for transforming third-class cities.
But Wolf is no ordinary politico; when asked about how he handles retail politics he reminds us that he understands the theory of politics, and that his dissertation won an award from the American Political Science Association in the 1980s. But this run isn't his first dive into electoral politics: he almost jumped into the gubernatorial race in 2010 and changed course to restore his company.
"I wasn't a politician then, I'm not a politician now," he asserts, while leading the polls by wide margins against his well-known challengers including State Treasurer Rob McCord, Rep. Allyson Schwartz and former DEP Secretary Katie McGinty.