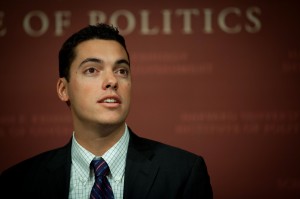 Nick Troiano announced the launch of his exploratory committee to run for Congress in PA-10 against Rep. Tom Marino (R-Lycoming).
"I'm considering stepping forward as a candidate for Congress because America deserves better than politicians who are more concerned about their next election rather than the next generation," Troiano said. "Our country needs leaders who can break the partisan gridlock and special interest influence in Washington in order to tackle the major sustainability challenges we face, from rising debt to increasing inequality."
The potential candidate's "America Deserves Better Exploratory Committee" launched a new website at www.NickTroiano.com. The campaign is aiming to recruit 1,000 supporters and raise $25,000.
To get on the ballot as an independent, Troiano will need approximately 4,000 petition signatures. Third party candidates require a greater quantity of signatures than major party candidates because they don't hold a primary election. They need 2% of the highest vote getter in the previous election.
"If the many Democrats, Republicans and independents who are equally disgusted with politics-as-usual get behind this effort, I am confident we could mount a serious, sophisticated and ultimately successful campaign," said Troiano.
Troiano is 24, but will turn 25 in June, just meeting the minimum age requirement to be a U.S. Congressman.
Troiano graduated with a Master's degree in American government from Georgetown University in 2013 and has spent the last several years working on political reform initiatives.
According to his campaign, Troiano co-founded "The Can Kicks Back" campaign in order to advance deficit reduction policies similar to those proposed by a national commission in 2010 that was co-chaired by former White House Chief of Staff Erskine Bowles and former Senator Alan Simpson, who serve on the group's Advisory Board. The group recently made headlines when it was alleged that they're having financial troubles of their own.
Two Democrats have already announced their intention to run against Marino who has held the seat since 2011: Scott Brion and Adam Rodriguez.
The 10th Congressional District of Pennsylvania encompasses Bradford, Juniata, Lycoming, Mifflin, Pike, Snyder, Sullivan, Susquehanna, Union and Wayne counties and parts of Lackawanna, Monroe, Northumberland, Perry and Tioga counties.