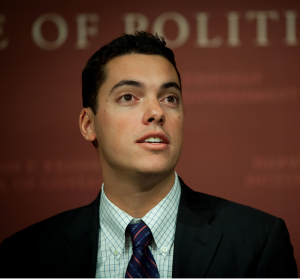 In a not particularly surprising development, independent candidate Nick Troiano announced he is entering the race for Pennsylvania's Tenth Congressional District against GOP incumbent Rep. Tom Marino.
Troiano first dipped his toe into the race when he created an exploratory committee last February. Then, a few weeks ago Troiano and Marino got into a dispute over Social Security.
The Independent is currently 24 years old, but will turn the Constitutional minimum 25 years of age for House members in June. He co-founded the group "The Can Kicks Back", which focuses on reducing the national debt and was the source of Marino's accusations that Troiano will harm senior's Social Security benefits.
"I am running for Congress because I refuse to accept the status quo of continued partisan gridlock and special interest corruption in Washington: a country in decline," Troiano declared at his campaign kickoff at the Milford Diner.
The first-time candidate's press release contained statements of praise from his political advisor Russell Verney, who worked on Ross Perot's influential independent presidential campaigns in 1992 and 1996, and former Senator Alan Simpson (R-WY).
Sen. Simpson served as co-chair of the Simpson-Bowles Commission to reduce the debt and worked with "The Can Kicks Back" as part of that effort.
"For several years now, Nick has been standing up to those frightened, pandering politicians who have been 'kicking the can down the road' for the sole sake of their own reelection," said Senator Simpson. "He's a good one!"
The campaign pointed to a March JMC Analytics poll that showed 76% of voters were open to supporting an independent candidate as proof of their ability to win. An important caveat, however, is that while voters generally may say they want an independent it is not yet clear that they want this independent. It is notoriously difficult to beat congressional incumbents even with party support and name recognition, without them the climb becomes even steeper.
One indication of whether Troiano has what it takes to win will be his ability to make the November ballot. In order for an independent candidate to qualify they must collect signatures equivalent to 2% of the votes that the leading vote getter won in the previous election for the seat. The campaign's performance in this endeavor will likely say a lot about whether they have a chance to unseat Tom Marino.