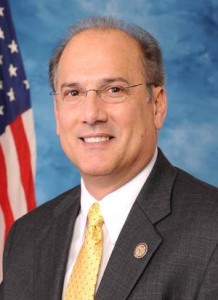 You can expect to be hearing a lot more of Rep. Tom Marino's name after he became the fifth sitting U.S. Congressman to back Donald Trump for the Republican Party's presidential nomination.
"For the past 10 months, I have listened to political pundits and inside-the-Beltway politicians say that Donald Trump is not a serious candidate, cannot win the Republican nomination and cannot win the presidency. However, Mr. Trump has defied the odds at every turn," Marino said in a statement. "It is time that we start listening to what the people want, and that is a President Donald Trump."
In an exclusive interview with POLITICO's Daniel Lippman, Marino said Trump has "overwhelming support" in his district – which stretches from west of Harrisburg to the New York and New Jersey borders – because "he's the man for the unprotected … not for the protected, not for the Wall Street people, not for the DC insiders, but for the hard-working taxpayers."
The three-term Congressman said he made the decision to endorse Trump on his own, without any courting, and called it "one of my life-changing moments" – akin to adopting his children and deciding to run for Congress in 2010.
Marino defended Trump's latest headline-making comments about the Ku Klux Klan, in which Trump wouldn't denounce David Duke, a former leader of the KKK.
"Trump's daughter, who converted to Judaism in 2009," Marino began. "I don't think Trump has any feeling and concerns about the KKK, other than he doesn't like them. He renounces them and given the fact that he supported his daughter in that move shows that."
Trump infamously kicked off his campaign by calling Mexicans "rapists" and "drug dealers," but Marino pointed to Trump's leadership on the issue of immigration.
"Mr. Trump is right about the desperate need to address illegal immigration and fight to keep our country safe," Marino said in the statement. "For far too long, President Obama has used his executive action powers to circumvent Congress and institute dangerous policies that both cripple our national security and economy."
Marino also stood up for Trump's non-existent political experience and pointed to his success in the polls as evidence the voters are looking for a different type of leader.
"How's it going for us now?" Marino said. "Over the last 20 years, over the last Republican and Democrat presidents, senators as presidents, governors as presidents, career politicians as presidents."
Marino said he wasn't expecting any backlash from the 10th Congressional District over his endorsement. He also doesn't have to worry about giving political ammo to any challengers for his seat, as he is running unopposed.