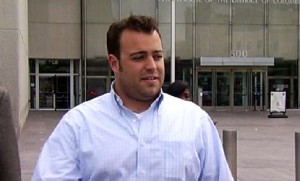 After dealing with legal issues for the past few months, Ryan Shucard, press secretary to Republican Tom Marino, has returned to his job.
The incident occurred back in July, when Shucard brought a 9mm handgun and magazine into the Cannon House Office Building.
Shucard was charged with a felony for carrying a pistol without a license. He had been house-sitting in Virginia the week before, and said he forgot the weapon was in his bag when he returned to work. The gun, given to Shucard by his grandfather, was lawfully possessed in Virginia.
In September, Shucard pled guilty for possession of an unregistered firearm and unregistered ammunition. Laws in Washington D.C. do not allow anyone, with the exception of D.C. Metropolitan Police, to carry a handgun.
Shucard was initially sentenced to 30 days in jail, but that sentence was suspended because he had successfully completed six months of unsupervised probation.
After the incident, Shucard was placed on unpaid leave. He is now returning to his job as press secretary to Tom Marino.