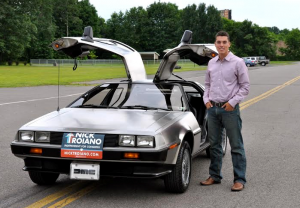 Nick Troiano, independent candidate for the 10th Congressional District, will spend July on his "Back to the Future" tour, traveling through the 15 counties in the district in a 1981 DeLorean, the car well-known for its placement in the popular 1985 film Back to the Future, in an attempt to acquire the 3,600 signatures necessary for him to be added to the November ballot.
If he is able to acquire the necessary signatures, he will face Republican incumbent Tom Marino, who has been well ahead of the game in funds and voter base since election season began, and Democratic candidate Scott Brion in November.
Despite the tour's whimsical theme, Troiano has a real message that he is trying to project through it.
"The message of my tour is that we must get back to a politics that serves the people in order to save the future of our country," he said in a press release today.
The tour will end in Harrisburg at the end of July, where Troiano hopes to deliver the signatures necessary to be placed on the ballot. The number of signatures the independent candidate needs is more than three and a half times that which the other two candidates, both members of a mainstream political party, were required to hand in.
Troiano's campaign noted in a press release that he is running at a time when, according to Gallup, only 7 percent of Americans claim they have "a great deal" of confidence in Congress.
"Only a truly independent leader can help break the partisan gridlock and special interest corruption in Washington," Troiano said. "I am running for the U.S. House to offer the people of the 10th District an alternative option to Congressman Tom Marino and politics-as-usual."
PA's 10th Congressional District consists of Bradford, Juniata, Lycoming, Mifflin, Pike, Snyder, Sullivan, Susquehanna, Union and Wayne counties and parts of Lackawanna, Monroe, Northumberland, Perry and Tioga counties.