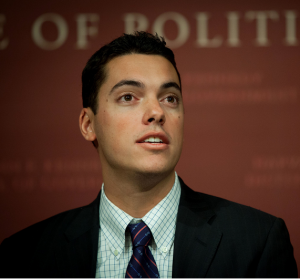 Nick Troiano, 25-year-old independent candidate for PA's 10th congressional district, announced via press release today that he has collected more than the 3,600 signatures needed to be placed on the ballot in November.
He will be releasing the exact number in an announcement from the Capitol steps on July 30th at 10 a.m.
This news comes four days and three stops before the conclusion of his "Back to the Future" tour, in which he is traveling through the 10th district's 15 counties in a 1981 DeLorean. With about a fifth of his tour remaining and sufficient signatures collected, he will likely well surpass the required number.
Once Troiano's signatures, due August 1, are turned into and ratified by the Bureau of Commissions, Elections and Legislation, he will become the 10th district's first independent candidate in history. In addition, he will be the only independent and the youngest congressional candidate in PA in 2014.
In addition to announcing the number of signatures collected next Wednesday, he plans to discuss political reform that would break down barriers for independent candidates in running against mainstream candidates.
Jerry Kairnes and Jack Donson, Troiano's Volunteer Petition Circulators, and Daniel Gallagher of the PA Ballot Access Coalition, which works to lower signature requirements in PA for independent candidates, will also be speaking.
Troiano was required to collect more than three and a half times as many signatures as Republican incumbent Tom Marino and Democratic challenger Scott Brion.
PA's 10th congressional district consists of Bradford, Juniata, Lycoming, Mifflin, Pike, Snyder, Sullivan, Susquehanna, Union and Wayne counties and parts of Lackawanna, Monroe, Northumberland, Perry and Tioga counties.