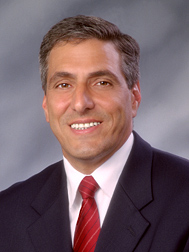 Congressman Lou Barletta is recovering from a heart procedure.
According to his office, Rep. Barletta underwent a cardiac catheterization on Monday to clear a blocked artery near his heart. The operation took place at the Hospital of the University of Pennsylvania in Philadelphia.
Barletta is now resting at his home in Hazleton. He is expected to return to Washington next week.
The Congressman's Communications Director Tim Murtaugh issued the following statement:
"Congressman Barletta is awake and recovering well and is already regularly communicating with his office in Washington. His doctors expect a full recovery and a return to his normal work schedule next week. They have given him a clean bill of health and say his heart is better than ever.
"Congressman Barletta had experienced some shortness of breath in recent days, which prompted him to seek a checkup. Doctors discovered a blocked artery which required a stent to repair it.
"Congressman Barletta is grateful to the medical team at the University of Pennsylvania and thanks them for their excellent care. He also thanks his doctors in Hazleton, and also the medical staff at the Capitol in Washington. Congressman Barletta also wants this to be a reminder to the people of the 11th District to pay attention to warning signs and have regular medical checkups."