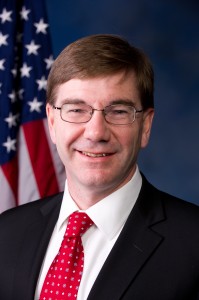 What's better than receiving the 1,000 signatures needed to run for Congress? Receiving three times that amount — or 3,408 to be exact.
And that is exactly what incumbent Representative Keith Rothfus (R-Allegheny) achieved in his re-election bid in Pennsylvania's 12th congressional district.
"I am especially grateful to our strong and dedicated grassroots organization throughout the district," said Rothfus. "I am an employee of all 700,000 people in our district, and my top priority is to remain accessible and accountable to everyone I have the privilege of representing."
Rothfus is looking to win his first re-election bid, having defeated Mark Critz in 2012.
"I am honored to serve as an advocate for families, seniors, veterans and a healthier economy that will produce rising wages and more opportunities for workers," said Rothfus. "I will continue to support policies that result in more jobs, reduce our national debt, and expand opportunities for our children."
If re-elected, Rothfus plans to push against the Affordable Care Act and the cuts made to domestic energy.
"As a cancer survivor who understands the importance of choosing your own doctor, I believe we must replace the President's failed health care law and broken promises with a plan that gives the American people more options and more affordable coverage. And we must continue to press accountability for out-of-touch bureaucratic elites in Washington that are threatening low cost American energy and turning the IRS into a political weapon."
Rothfus is poised to win the primary but could face competition in November. PA-12 has a R+9 partisan voting index, but some reports have indicated "tepid support" for the incumbent.
Rothfus will face the winner of the Democratic primary — either former chief of staff to Rep. John Murtha John Hugya or health care professional Erin McClelland.