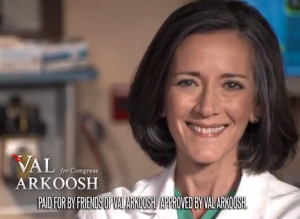 Physician, activist and first-time candidate Valerie Arkoosh just bought up serious ad space for the days before the primary.
Arkoosh is leading the Democratic pack for PA-13 in cash on hand, and clearly intends to use this advantage to tackle her very small name recognition in the district. Her campaign spent $400,000 to run ads during high-traffic time slots between May 12 and May 19.
"After another strong and consistent fundraising quarter, we placed the most significant ad buy in the race so far," Arkoosh's Communications Director Bryan Lesswing told PoliticsPA.
This quarter, she bringing in $220,474. She spent reasonably ($176,875), maintaining her lead in cash on hand at $687,530.
She's the only new candidate in the race; she faces State Senator Daylin Leach (D-Montgomery), State Rep. Brendan Boyle (D-Philadelphia) and former Congresswoman Marjorie Margolies in the primary.
Her web ad, "Sarah," is running now on Facebook and YouTube, but this won't be the ad used on television next month.