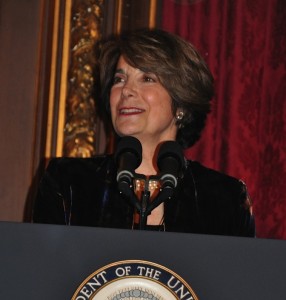 In what will likely be a huge blow to her opponents, former President Bill Clinton will headline Democratic candidate for Congress Marjorie Margolies' upcoming fundraiser.
First reported by the Philadelphia Inquirer, The event will take place on April 10 at the Prime Rib restaurant in the Warwick Hotel. If you'd like to be a part of this, get ready to cough up some serious cash. Tickets are reported to be $1,000 and $5,000.
The hosts for the evening are MontCo Commissioners Chairman Josh Shapiro, who just announced his support for Margolies officially, and Radnor lawyer Darren Check.
One could say this is the former President's way of paying Margolies back for her vote that helped pass his budget, yet came at the cost of her seat in the 13th District.
Clinton's Omnibus Budget Reconciliation Act of 1993 was unpopular at the time, as it included several  tax increases. He needed her vote for the legislation to pass in the House, and she obliged. The bill passed by one vote and suddenly Margolies was faced with many unhappy constituents. She lost her seat in the 1994 Republican takeover.
It also doesn't hurt that Marjorie and the Clintons are related by marriage. Margolies' son married Chelsea Clinton a few years ago.
One of her opponents in PA-13, physician Val Arkoosh, has attacked Margolies on the basis of her vote in an attempt to change Social Security through raising the age of retirement. Margolies maintains that she believes the age should "stay where it is."
Aside from Arkoosh, Margolies will also potentially face State Rep. Brendan Boyle (D-Philadelphia) and State Sen. Daylin Leach (D-Montgomery) for her former seat.