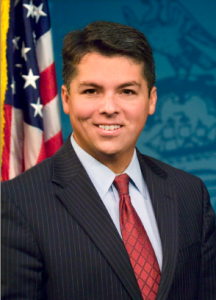 The loss of Pennsylvania, Michigan and Wisconsin cost Democrats the White House this year.
As a result, the lesson many have taken from that is the party needs to reach out more to blue collar workers.
In that vein, Congressman Brendan Boyle announced today the founding of the "Blue Collar Caucus" alongside Texas Democrat Marc Veasey.
Boyle's 13th District represents Northeast Philadelphia and Southern Montgomery County while Veasey's 33rd District in Texas contains parts of Dallas and Fort Worth.
"Too many Americans think the best days for their families are behind them. And they've lost faith in their elected leaders to stand up for their best interests, protect their rights, and promote their prosperity. We can and must do better," Rep. Boyle stated. "The America I grew up in – and the one I still see today – is a forward-looking nation built by blue collar workers of all colors, crafts, and creeds. These workers literally built our nation. Now it is our duty in Washington to rebuild their trust in government by working for them."
"Every hardworking American should have the economic security to provide for their families. Congress has the responsibility to enact policies that ensure an equal opportunity for all American workers to climb the ladder of success," Congressman Veasey said. "Through my monthly 'Marc Means Business' initiative where I work alongside constituents in both large and small businesses, I've learned that Americans want real action to create jobs, raise wages, and ensure that they can improve the quality of life for their families and for future generations. Our caucus will focus on exactly that."
They provided the following description on the goals of the caucus:
The Blue Collar Caucus will foster member discussion and legislative ideas focused on addressing wage stagnation, job insecurity, trade, offshoring, and dwindling career opportunities for those in the manufacturing and building trades. The caucus will focus on bringing together a diverse array of Democratic members of the House of Representatives to generate solutions that will protect American workers from globalized competition, maintain the viability of domestic manufacturing, and help to cultivate innovative industries that can provide stable employment amid rapid technological advancement.