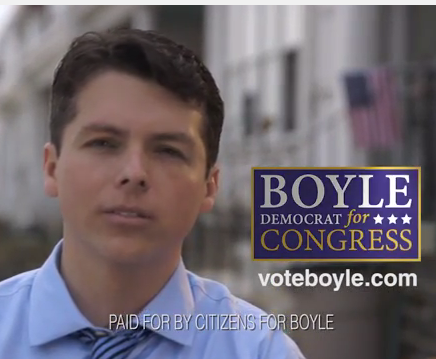 Candidates releasing their tax returns and requesting that their opponents do the same appears to be the hottest trend of Spring 2014, and the race for the Democratic nomination in PA-13 has not escaped.
State Rep. Brendan Boyle released five years of tax returns to reporters at the Daily News, the Inquirer and WHYY back in October, saying that he believed that those seeking to write the tax policies of our nation have a duty to be transparent about their own taxes and financial interests
"How is it that a majority of a representative body like Congress now belongs to the wealthiest one percent of America? We are becoming an American oligarchy where the wealthiest candidates are funded by themselves and their wealthy friends – and then set tax policies that benefit the wealthy," said Boyle.
Former Congresswoman Marjorie Margolies released her returns, and State Senator Daylin Leach released one year of returns.
"Last week Daylin Leach urged Margolies to be more transparent with her campaign finances at the same time he was being less transparent with his own personal finances," Boyle said.
"It's ironic that Boyle is focused on Daylin's wife's income rather than the women who are suffering because of the clinics that closed due to his efforts," Leach's campaign manager Aren Platt told PoliticsPA. (ICYMI – Arkoosh sent out a direct mail piece that also discussed Boyle's TRAP vote).
The fourth candidate in the race, physician and activist Val Arkoosh has not yet released her returns.
"I think Val has a special duty to come clean with voters and release her tax returns, because she is the least known among us," Boyle's campaign manager Adam Erickson told PoliticsPA. "It is possible that her financial entanglements raise ethical questions – why else would she refuse to do what Brendan Boyle and every candidate for Governor of Pennsylvania has done by making their taxes public?"
Arkoosh's campaign did not elaborate on their tax return plans, but told WHYY's Dave Davies that they were looking into the issue.