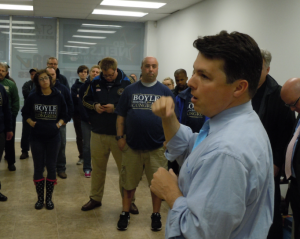 While his opponents debated for the cameras, Boyle chose a more direct method to reach voters.
After he revealed that he would not be attending last night's debate at the Philadelphia Portuguese Club due to the organizer's support of Marjorie Margolies, State Rep. Brendan Boyle decided to hold a rally of supporters and lead them on a canvass of a nearby neighborhood.
According to the campaign, their rally consisted of over 50 supporters including elected officers and union officials and they knocked on over 1,900 doors.
"While my millionaire opponents are busy squabbling with one another in a debate organized by one of their campaigns, we're here working to get our message out about why we need representation in Congress that will stand up for working families, not millionaires," Boyle said. "Growing income inequality is the major issue our country faces today, and when I'm elected I will fight every day in Washington to make sure families like the ones that live right here in Northeast Philadelphia aren't shut out of a better future."
"Since being elected over five years ago, Brendan has been working for people across the city, and he'll continue to work for our community as our next member of Congress," said labor official Robert Gormley.
Boyle asserted his campaign has reached over 50,000 homes since last July.
"With the help of so many supporters who are here today, my campaign has reached more voter doors and held more community events than all of my opponents combined," he stated. "It is a tribute to the work of all of you, and with your help we will be victorious on May 20th."