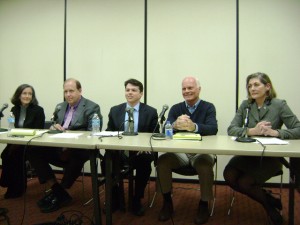 Five of the six candidates competing for the 13th congressional district met once again last night in an open forum.
The debate was held in a small but full room in the bottom floor of the Abington Public Library. Between opening and closing statements, the candidates took questions from the audience in what was perhaps the most open, spirited, and informal of their debates thus far.
Daylin Leach
If there was anyone who should've been happy yesterday it was Leach, whose strong fundraising report had just been released. The State Senator of course, was his usual boisterous, humorous self. While Leach showed quite a bit of camaraderie with Brendan Boyle at times, they also had the exchange of the night and the first real contentious moment of the campaign between the three attending Democratic candidates.
It started when an attendee asked about abortion as part her question. Boyle stated that he "supports Roe v. Wade" while Leach described himself as "100% pro-choice". After listing some of his own accomplishments, Leach attacked Boyle for supporting the so-called TRAP Act asserting that it required burdensome regulations on abortion clinics and was responsible for the closure of eight facilities. He also stated that HB 1314, which was co-sponsored by Boyle, was similar to the bill Wendy Davis famously fought against in Texas.
Boyle denied the similarity between his bill and the one in Texas noting that only the latter contained a 20-week ban on all abortions. He also seemed to insinuate that the questioner was a Leach plant. "Well it's your campaign that asked the question," Boyle said to Leach at one point. Boyle went on to call Leach's attack "inaccurate", a "distortion" and a "scare tactic" and compared it to a immature acts like food fights and name-calling.
Leach stood his ground, though, stating "if you voted for TRAP, you voted to deny women access to abortion."
During the rest of the questioning, Leach touted his service on the Senate Education Committee, his F rating from the NRA, and his commitment to cap and trade and carbon taxes as a way to fight climate change.
Brendan Boyle
Boyle was in the middle of things both literally and figuratively last night. Besides the abortion kerfuffle with Leach, he also got into it a bit with the two Republican candidates on education.
In an answer to a question about pre-K, Boyle noted that he had chaired a hearing earlier in the day on a bill he introduced that would make kindergarten mandatory. He also cited alarming statistics about the low number of three and four year-olds who participated in pre-K programs. This led Republicans Dee Adcock and Beverly Plosa-Bowser to denounce efforts to require three and four year-olds to attend school, although the conflict ended when it was made clear those programs would be voluntary.
The State Rep. also voiced his worry about the effects of climate change and advocated for reform in the criminal justice system.
Valerie Arkoosh
Arkoosh got off to a tough start, although this was due entirely to the fact that thanks to a scheduling error she was a half-hour late.
The physician candidate took the opportunity to portray the Leach-Boyle conflict over abortion as an example of what happens to women when elected officials get to decide on that issue. Additionally, in response to a question on gun violence in schools she recounted her first-hand experience with treating gunshot victims.
She also came out in favor of a carbon tax in response to climate change and identified Race to the Top and the Obama Administration's education policy as an example where she differed from her party's leadership.
Dee Adcock
Dee once again seemed to revel in walking into the mostly Democratic setting as an unapologetic conservative.
His biggest confrontation came with a member of the audience who asked about climate change. "The climate is always changing," he answered. Adcock then described how in the 1970's people were worried about global cooling. When the questioner asked about the "98% of scientists" who agree on climate change, Dee responded that he should ask those scientists who were involved with the TIME cover story on global cooling about it. (It's unclear which Time story he was referring to, it was most likely this one but it didn't make the cover).
He finished with a joke, "Look I own a swimming pool business, the warmer it is the happier I am." Most of the people in the room, particularly Leach, made some incredulous gestures during Dee's answer.
Adcock also denounced GOP participation in "crony capitalism" and accused Warren Buffett of befriending President Obama in order to stop the Keystone pipeline extension.
Beverly Plosa-Bowser
Meanwhile, Bowser didn't cause any major waves. She voiced support for local control of education, passing budgets on time, and nuclear power as an alternative source of energy.
On one issue, though, she differentiated herself from her GOP primary opponent when she came out against term-limits, declaring that was something for voters to decide. To explain her position the retired Air Force Colonel described how in the Pentagon officers are term-limited, meaning they face no accountability for their five and ten-year budget projections.
Marjorie Margolies
Finally, there was the one candidate conspicuous by her absence. All three Democrats, and even Dee Adcock, all took subtle or not so subtle jabs at Margolies by decrying candidates who don't have the respect for voters to actually show up to forums like this.
Boyle got a particularly good laugh when asked to describe a difference he had with national Democrats. "I've heard the DC establishment is supporting Marjorie Margolies, I disagree with that," he responded.