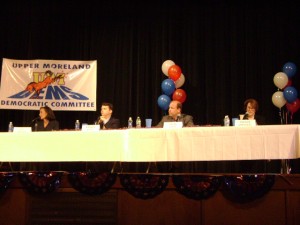 "I've done a lot of these debates in my time," moderator (and PoliticsPA guest columnist) Larry Kane said at the conclusion of Wednesday night's event. "This was a good one."
Boy, was it ever. The final PA-13 Democratic debate featured everything from laughs, arguments, solemn moments, and fierce attacks.
Boyle
State Rep. Brendan Boyle was on point for most of the night. In the beginning he fought off attacks against his bona fides on abortion by repeating that he supports Roe v. Wade. When pressed by Kane he even explicitly stated, for what I believe was the first time, that he is "pro-choice".
He also expressed delight that he got to talk about foreign policy and seemed the most informed about the details on the situation in Syria and the kidnappings in Nigeria. For instance, he was the only candidate to note the affiliation some Syrian rebels have with Al Qaeda and who knew there were exactly 17 U.S. advisors currently in Nigeria.
Boyle's best moments, though, came when he took Marjorie Margolies head-on. In what was likely a pre-planned attack, Boyle used a question about the minimum wage to contrast himself with his opponent. He stated that in twenty-four hours he would be knocking on Philadelphia row home doors and contrasted this with the former Congresswoman.
"Twenty-four hours from now, Ms. Margolies will be in the home of Baroness de Rothschild, at her penthouse apartment in New York having a fundraiser a few days before the election."
Marjorie responded that she would not be present at the fundraiser but rather would be attending the Montgomery County dinner. Boyle then criticized Margolies for associating with Rothschild, someone who has supported Sarah Palin and said President Obama only won based on his race.
"Hillary Clinton is giving me a fundraiser and I will be at the Montgomery County dinner," she explained. When pressed by Kane about the host of the event, Margolies responded, "Hillary is giving me a fundraiser, she's friends with the baroness, yes."
Later, he also hammered Margolies when she said that the potential construction of a drone base in Willow Grove was a "complicated" issue.
"All these issues are complicated, that's why we're here to debate them," he declared.
Finally, he countered Margolies' claims that he supports charter schools by pointing to his voting record and, more pointedly, his family.
"My wife is a public school teacher, obviously I'm in favor of public education," Boyle said.
Leach
The State Senator was his usual bombastic self in these (and likely all) settings. He first quarrelled with Arkoosh over third-party groups that have been supporting her with radio ads. Leach insinuated that there was obvious coordination between Arkoosh and these groups because they bought radio ads while the Arkoosh campaign only bought TV and online ads.
"We are all responsible for who supports us and who we accept support from," he stated.
He also took issue when Boyle tried to portray him as anti-Planned Parenthood. "That utterly, three hundred and sixty degrees miscategorizes what I said."
Leach also got into several arguments with Margolies, who have gone back and forth a number of times over the course of this campaign. This latest brouhaha was over the latter's claim that Leach had lied about his wealth by giving $250,000 to his campaign through refinancing his home. Concerning her charge that Leach had said his only asset was his salary, he responded that he had said his only income was his salary which seemed to effectively blunt her attack.
Somewhat surprisingly, Leach was quite open about his feelings that the U.S. should intervene in humanitarian crises like Syria. The "Liberal Lion" proclaimed that real progressives need to fight genocide in the world.
His characteristic humor was also on full display, most notably when Boyle and Margolies were fighting over her fundraiser at the home of the Baroness de Rothschild.
"All my baronesses are progressive," he quipped.
He saved his hardest critique for the end. When the time came for closing statements the candidates seemed hesitant to let Margolies go last. Once again pointing out the notecards she frequently uses, Leach said they didn't want her to go last because she usually criticizes them all in her closing statements without them having the ability to respond. He also accused her of having someone else write her cards.
Marjorie seemed sick of Daylin's prodding about her cards and countered that as a teacher she advised him to perhaps keep notes and think about things before he says them.
"I have my own thoughts," he forcibly responded. "In Congress we should have people who think for themselves, that's part of the job."
"That was a punch to the groin, in boxing parlance," Kane said in an aside both hilarious and spot on.
Margolies
Overall, it was a tough night for the former Congresswoman as she found herself in a number of battles and too often did not come out the victor in them.
At first, Marjorie did well by successfully dealing with questions about her past on Social Security. She once again emphasized that her proposals were unique to the time and that she does not favor cutting benefits or raising the retirement age.
She also showed an independent streak when it came to foreign policy. For example, she criticized President Obama for not acting when Syria crossed the "red line" of using chemical weapons and expressed worry about Iranian nuclear ambitions.
Yet several times she unfortunately faltered. Her answer about the Clinton-Rothschild fundraiser seemed strange as without the candidate's attendance it's unclear what the point of the fundraiser would be.
Then, she gave an unsatisfactory answer on a proposed drone base in Willow Grove that Boyle hit her on, as described above.
"This is a very complicated judgement call," she answered. "This is what you're going to have to trust us with."
Additionally, she seemed genuinely annoyed when Boyle mentioned that some of her eleven kids attended private school.
"I find it offensive that you would find it offensive," she shot back.
Her worst moment, however, came at the end. Likely perturbed by the continual attacks from Boyle and Leach she proceed to strike back with her closing statement.
"This has come down to a two-person race between me and Brendan Boyle," she began before attacking Boyle's record on abortion.
The comment outraged Arkoosh and Leach supporters in the crowd and she also allowed Boyle to take the high ground in his closing statement.
"We have four, bright, hard-working people on the stage," he said. "This is not about us, it's about the voters."
Arkoosh
The rookie candidate once again did her best to side-step the fighting that has become so prevalent in this campaign. Yet at the beginning she face hostility from an unlikely source in Daylin Leach, who accused her of colluding with third-party groups. She countered that he was improperly insinuating that these groups were giving money to her campaign and that she couldn't legally refuse their help even if she wanted to.
When Leach brought up the lack of official Arkoosh campaign radio ads as proof, the argument grew heated.
"You've gotta stop right there," Arkoosh said, cutting Leach off. "That insinuation is absolutely, positively false."
Later in the debate, she would go on to speak strongly about her experiences working with women and how the lack of respect for women in America can contribute to horrible treatment abroad.
Arkoosh also pledged to protect Social Security, called for much tougher actions in Syria and denounced the effects of for-profit prisons. In a forum that saw a lot of charges and invective thrown around she contributed the least to that, which has usually been the case in this race.
Misc.
Larry Kane did a great job moderating the debate (and yes, I'd still say that even if we weren't fellow PoliticsPA writers and Beatles fans). He divided the forum into three sections: addressing each candidate with the charges the others had made against them, foreign policy questions, and student questions.
The event was held at Upper Moreland High School and a number of students came on stage to ask the candidates some well-prepared questions.
In an intriguing sidenote, after a question about Syria all four candidates spoke passionately about getting more involved in the conflict and implicitly, or explicitly, criticized the President for doing too little.
Finally, after several entertaining and enlightening events, there are no more PA-13 Democratic debates. While I may mourn the loss, at least the voters of the 13th district gained valuable insight into the candidates seeking to be your next representative.