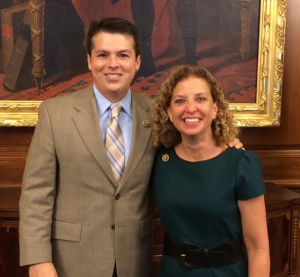 Democratic National Committee Chair Debbie Wasserman Schultz will come to Montgomery County this Sunday to headline a fundraiser for freshman Congressman Brendan F. Boyle.
Rep. Schultz, of Florida's 23rd district, said in a press release on Thursday that she was eager to lend her support to Boyle's fundraising event.
"Brendan has very quickly made a name for himself in DC as a smart and hard-working young legislator with a very bright future. He and I have become good friends and I'm happy to support him," said Wasserman Schultz.
Rep. Boyle shared Schultz's enthusiasm for the upcoming event.
"It's an honor to have someone of Debbie's stature come to my district to support me," Boyle stated. "From my first week in Washington, she has gone out of her way to help me make a smooth transition. Debbie is a leader in Congress and in our party and I am excited to host her."
In addition to being friends and members of the same party, Boyle and Wasserman-Schultz are also connected by a piece of Capitol Hill real estate: Boyle's office, 118 Cannon, was Wasserman Schultz's office from 2005-2014.
"It definitely looked nicer when it was Debbie's office!" Boyle joked.
Boyle represents the 13th district, which consists of parts of Montgomery and Philadelphia Counties. He discussed his first months in Washington in an interview with PoliticsPA this June.