State Rep. Brendan Boyle (D-Philadelphia) has been adamant about his record on supporting women's issues, unfortunately for the candidate, the nation's biggest women's organizations apparently don't believe him.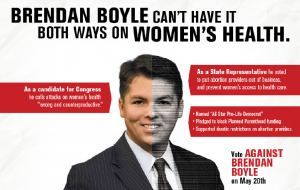 According to Laura Bassett and Ryan Grim of the Huffington Post, EMILY's List and NARAL are teaming up for the first time ever to take on the State Rep. and PA-13 Democratic candidate.
The groups have already created a mail piece on Boyle that portrays him as someone who is "two-faced" and "can't be trusted to protect a woman's right to choose".
Bassett and Grim also reported that according to two of their sources the groups are planning to spend six figures in the primary, which is just twelve days away.
For his part, Boyle has repeatedly asserted during the campaign, including in an interview with PoliticsPA, that he supports Roe v. Wade.
Nonetheless, all three of his opponents have attacked him on this issue. Margolies and Arkoosh have sent out direct mail pieces hitting Boyle while Leach released a TV ad last week.
Bassett and Grim, as well as PoliticsPA and Chris Brennan of the Daily News, believe these persistent attacks may be signs that Boyle's campaign is surging.
"The focus on Boyle by Leach, Arkoosh and Margolies indicates that his rivals see him as the frontrunner as the primary approaches, in a stark reversal from the start of the race," they conclude.