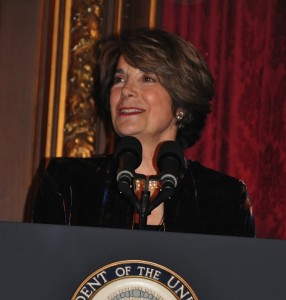 Well, the second half of the Clinton super-team is coming in for Marjorie Margolies.
Politico's Maggie Haberman reported yesterday that former Secretary of State Hillary Clinton will be appearing at a fundraiser for the Margolies campaign on May 15th. Former President Bill Clinton attended a fundraiser for the campaign last month.
Margolies has been a Clinton ally since casting the deciding vote for the President's historic 1993 omnibus bill. Since then, though, she has literally become part of the family as her son, Marc Mezvinsky married Chelsea Clinton in 2010. Chelsea made headlines recently when she announced the couple is expecting their first child.
As Haberman notes, this will be the first political activity Hillary Clinton will undertake this year. Sec. Clinton is widely expected to run for President in 2016 and is considered perhaps the most popular Democrat in the country (with the possible exception of Bill Clinton).
As the event is taking place just five days before the primary, the purpose may be more on emphasizing the candidate's close ties to the popular former (and possibly future) First Family rather than merely fundraising.
The Host
The event is scheduled to take place at the New York City home of Lynn Forester de Rothschild. An avid supporter of Hillary, Rothschild has made disparaging and controversial statements about President Barack Obama in the past.
On the eve of the 2008 primary, Rothschild wrote the following in a blog post for the Huffington Post:
"If he succeeds, Barack Obama will bring the kind of radical transformation that this country does not need and never has. And the country will be in for a shock."
She went on to support John McCain in 2008 and held a fundraiser for Republican presidential candidate Jon Huntsman Jr. in 2011.
Later in 2011, Rothschild told Politico that while still registered as a Democrat, she would not support the party so long as Barack Obama was President.
Other Democratic candidates in PA-13 include physician Val Arkoosh, State Rep. Brendan Boyle and State Sen. Daylin Leach.