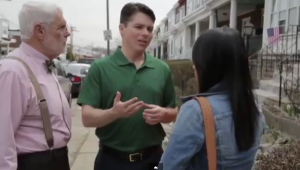 Democratic candidate Daylin Leach is bringing trolling to a whole new level with #Boyleing.
This whole saga began when a pro-Boyle SuperPAC released an ad that made ample use of footage of the State Representative. It turns out the Boyle campaign uploaded a YouTube video on April 15th of stock footage of the candidate talking to voters with filler music.
While all candidates record footage like this, it would make little sense for them to post it online unless they wanted others to use it. According to campaign finance laws, SuperPACs can not "coordinate" with the candidates they are supporting. Therefore, according to the Leach campaign, this video was a blatant effort to provide Building a Better PA with video for their ad (some of the footage does indeed appear in the SuperPAC's commercial).
Instead of just pointing this out, however, the Leach campaign wants to have a little fun at the Boyle campaign's expense. Taking a page out of The Daily Show's book, who created the phenomenon known as #McConnelling, the Leach campaign is urging citizens to make their own unique videos with the footage that the Boyle campaign has supplied.
Leach's campaign has already posted two such examples and are encouraging participants to use the hashtag #Boyleing. Their crusade has already apparently reached the Philadelphia Daily News.
Boyle's campaign manager Adam Erickson responded to Leach's effort by telling PoliticsPA the following:
"While Daylin is fiddling his Mac making silly videos, Brendan Boyle's campaign is focusing on the real issues that matter to the constituents of the 13th: income inequality, expanding the middle class, protecting retirement security and women's health."
Other Democratic candidates in the race for PA-13 include physician Val Arkoosh and former Congresswoman Marjorie Margolies.