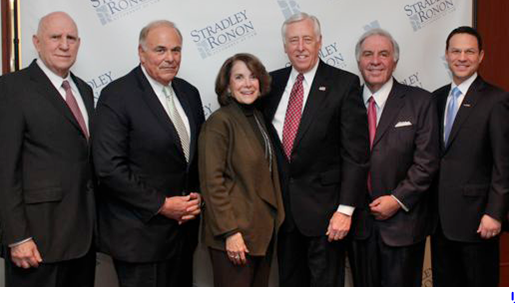 Democratic congressional candidate Marjorie Margolies held a fundraiser with several national and state political heavyweights last week, as she campaigns to regain her seat from the early 90s.
The event, a breakfast held at the Philadelphia office of the law firm Stradley Ronon, took place on February 7th. The headline guest was House Minority Whip Steny Hoyer.
Apparently, Hoyer was in the midst of a weekend swing through southeast PA as he also stopped by Kevin Strouse's Bristol campaign office the next morning. Hoyer spoke to the assembled group at the firm's headquarters and took questions from the attendees.
Most intriguing, however, is the photo the law firm released of the event which shows Margolies, Hoyer, members of Stradley Ronon, and former Governor Ed Rendell. The popular Democrat has not endorsed any candidate in the race, and it isn't clear this constitutes any sort of endorsement, yet his appearance with Margolies is sure to distress her opponents.
The photo also shows popular Democrat and potential 2016 Senate candidate Josh Shapiro. Like Rendell, he hasn't made any official endorsement in the race, but his attendance at a Margolies fundraiser may be an informal one.
Despite raising more than her competition in the fourth quarter of last year, $211K, Margolies spent more than she raised for a difference of -$14,000. That was the second quarter in a row where Margolies had an unparalleled burn rate. In the 3rd quarter, of the $237K she brought in, she spent $205K – a burn rate of 86%.
Other Democratic candidates in PA-13 include physician/activist Val Arkoosh, State Rep. Brendan Boyle and State Sen. Daylin Leach.
The latest available polling in the race was done by the Margolies campaign back in August. It showed Margolies at 43%, followed by state Rep. Brendan Boyle (D-Phila) at 15%, state Sen. Daylin Leach (D-Montco) at 7% and physician Valerie Arkoosh at 2%. 31% were undecided.