Marjorie Margolies released her first TV ad *which will air later this week, becoming the third candidate in the race to officially hit the airwaves.
The spot, which is titled "Courage", features the former Congresswoman speaking to the camera as well as footage of former Governor Ed Rendell. The commercial seeks to make the case that Margolies' history proves she's the best candidate for the future.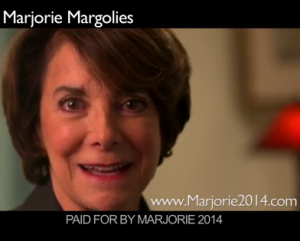 "Sometimes the hardest thing and the right thing are the same," Margolies says.
The video then transitions to Gov. Rendell's speech at the campaign's Bill Clinton-headlined fundraiser.
"It's a rare politician who has the courage to do what's right over her own political expediency, Marjorie did that," the ex-Gov states in reference to Margolies' famous vote to pass the 1993 Clinton budget.
"Because doing what's right is not about taking the easy way out," Margolies continues. "I'll never back down from a challenge because it's too hard. And I'll always stand up for what's right."
The ad also highlights some of the candidate's pledges during her voiceover, including "Protect Medicare and Social Security", "Leadership on Women's Issues" and "Unmatched Experience."
The first statement is most likely a response to questions about the candidate's past efforts to change Social Security, a position that Marolies told PoliticsPA she has "evolved" from.
As for her well-known in-law, a shot of Margolies with President Clinton from the fundraiser is shown, as well as a quote from Bill, yet strangely there is no footage of his speech. The strategy here may be to get two ads featuring popular Democrats in PA out of this event, one with Gov. Rendell and one with Pres. Clinton.
The campaign did not reveal the size of the ad buy although they noted that Senior Advisor Ken Smukler has said "we will be on television with our opponents at the same ranges of frequency." The closest statement PoliticsPA could find to this effect was a quote Smukler gave to the Inquirer in their April 20th story.
"When they are on TV, we will be on TV," Smukler told the Inquirer's Jessica Parks. "And we will be on at levels that are as significant in this market as they are."
Among the other Democratic candidates State Rep. Brendan Boyle and State Sen. Daylin Leach launched their own TV ads last week. Meanwhile, physician Val Arkoosh has reserved TV time and is currently the beneficiary of radio ads from an outside advocacy group.
*The article originally stated the ad ran on Monday, it will not run until later this week
Update: The Margolies campaign revealed that the ad will make its premiere during Game 7 of the Flyers-Rangers playoff series on Wednesday night.