Marjorie Margolies' campaign is launching a full offensive against Brendan Boyle and his stance on abortion.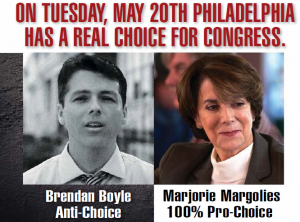 Yesterday, a pro-Boyle SuperPAC premiered an ad that defended the State Rep. saying he would "protect a woman's right to choose and he will defend Planned Parenthood."
Today, the Margolies campaign is calling the ad "a lie to women across the 13th congressional district and an affront to anyone who cares about a woman's right to choose."
In response, the campaign announced the candidate will be holding a press conference tomorrow at 1:00 at the Norristown Courthouse concerning Boyle's voting history on abortion.
"Brendan Boyle must think the women of the 13th congressional district aren't intelligent enough to see through the lies of his SuperPAC when it comes to his 'bad votes' on our reproductive rights," Margolies stated. "On May 20th, we will show Brendan Boyle we are smart enough to figure him out."
The Marjorie 2014 campaign also unveiled a direct mail piece they are sending throughout the district that describes Boyle as "anti-choice." Among the evidence cited against Boyle are his 2004 designation by Democrats for Life of America as a "Pro-life All-Star", his cosponsorship of HB 1314, and a 50% rating from Planned Parenthood on reproductive rights.
Boyle has faced heavy fire from all three candidates on this issue. Last week, State Sen. Daylin Leach released an ad attacking Boyle for the same things and before that, Val Arkoosh sent out a mailer hitting Boyle for his vote for Act 22, asserting it hurt Planned Parenthood.
The silver lining for Boyle amidst all these dark clouds? If all his opponents are attacking him, it's likely they're doing it because they feel he is ahead or at the very least a serious threat. Last week, Chris Brennan of the Inquirer theorized that being the only candidate from Philly and strong union support would provide Boyle with a distinct advantage.
The next debate between the candidates is scheduled for May 14th.