In a move that should surprise no one, Bill Clinton supports Marjorie Margolies for Congress.
While the support of his in-law may not take anyone by surprise, though, that doesn't mean it loses it importance.
The new TV ad uses footage of Clinton's fundraiser for Margolies last month. Their previous commercial used some of former Governor Ed Rendell's speech from the same event.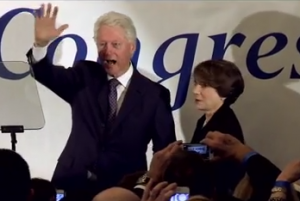 "If you send Marjorie to Congress, she'll make you proud, she'll vote right," Clinton states. "I'm not coming here saying vote for her because twenty years ago she saved the economy."
"She'll take initiatives, she'll do things that stand up when she needs to stand up and cooperates when we need cooperation," he concludes. "And I think America will be a better place and this district will be well served if you elect her."
The former President would owe the former Congresswoman even if she was just the person who "saved the economy" (and his presidency) twenty years ago with her deciding vote for the 1993 Omnibus Budget bill. Added to that is the fact that the two are family, as Marjorie's son Marc is married to Chelsea Clinton.
Bill won't be the only Clinton coming to help Marjorie, however, as Hillary will be appearing at a New York City fundraiser for her in-law tomorrow. The final debate in the PA-13 debate is also tonight at Upper Moreland High School.
Other Democratic candidates include physician Val Arkoosh, State Rep. Brendan Boyle and State Sen. Daylin Leach.