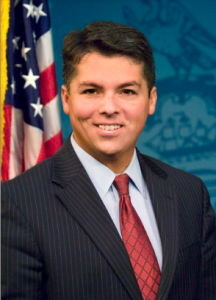 Potentially one of the first pieces of news out of PA-13 that doesn't involve a feud, the Black Clergy of Philadelphia and Vicinity announced their support for State Rep. Brendan Boyle in his quest to represent the 13th district.
"We have been very impressed with Representative Boyle's work in our community. In his time as a state lawmaker, he has demonstrated his commitment to community service," said Rev. Terrance Griffith, president of the Black Clergy. "We strongly believe that he's the best choice to represent the 13th district in Congress."
Rev. Griffith made note of his and the clergy's appreciation for Boyle's desire to focus on the upkeep of urban neighborhoods, saying this "needs to be a top priority for our next member of Congress."
Boyle was grateful for the support of the clergy. He stated that he and the Philadelphia group share a number of priorities, including increasing access to a good education for children and reducing the growing income gap.
"In a Congress where the majority of members are millionaires, we need representation that will address the pressing problems in our communities, particularly in low income and minority neighborhoods," said Boyle. "Leadership on issues such as education, raising the minimum wage and fighting poverty doesn't come from candidates who are physically or economically detached from the neighborhoods that need help from Congress. It comes from electing people who have the life experience and drive to fight for working families and communities. As the son of an immigrant and someone whose family experienced the difficulty of my father being laid off and out of work, I intend to work every day in Congress for the families across our district that need an ally in Washington."
Boyle has frequently made income a diversifying point among him and his opponents, often referring to them as millionaires. Recently, he declined an invitation to a PA-13 debate because its host was a supporter of one of his opponents, former Congresswoman Marjorie Margolies.
The clergy is one of several Philly supporters backing Boyle, including the Philadelphia Democratic Party and various elected officials from the area.
Along with Margolies, Boyle faces physician Val Arkoosh and State Senator Daylin Leach in the Democratic primary for PA-13.