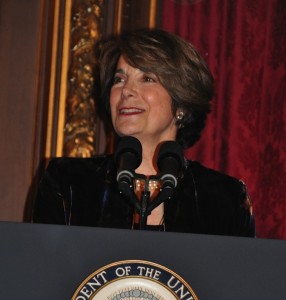 Marjorie Margolies got a major boost in her bid to regain her congressional seat from the 1990s.
Five ward leaders from Philadelphia endorsed the former congresswoman in her campaign for the Democratic nomination in PA-13.
The ward leaders are Mike McAleer, leader of Ward 66B and Chairman of the Northeast Ward Leaders, John Sabatina, Sr., leader of the 56th Ward, Elaine Tomlin, leader of the 42nd Ward, Bill Dolbow, leader of the 35th Ward, and Janice Sulman, leader of the 53rd Ward.
Sabatina said, "The voters need someone in Washington who can deliver for them on Day One. We don't need someone to go there and learn the ropes, we need someone who can pick up the phone and get things done."
Together, they represent nearly 40% of Philadelphia's registered Democratic voters in Pennsylvania's 13th Congressional District.
"When I announced my candidacy, I said that my campaign would go into every neighborhood of the 13th Congressional District. Today the leaders of some of Philadelphia's strongest neighborhoods stand behind me to bring my brand of leadership back to Congress," Margolies said. "Democrats from Rhawnhurst to Lawncrest and Oxford Circle to Olney want to send leaders to Washington to fix a broken system. I am humbled that their leaders today stand behind my campaign to do just that."
Margolies held the seat for one term during the Clinton administration, and she's now Chelsea Clinton's mother-in-law.
Margolies is in a four-way primary against State Senator Daylin Leach (D-Montgomery), State Rep. Brendan Boyle (D-Philadelphia) and physician/activist Valerie Arkoosh to fill the seat vacated by Allyson Schwartz's retirement.
The endorsement also came with a shot at Boyle.
McAleer, leader of Ward 66B and Chairman of the Northeast Ward Leaders, said, "When Brendan Boyle announced his candidacy for U.S. Congress, I told him that I could not endorse a candidate for US Congress and state Representative on the same ballot. You can't serve both, run for one or the other. I believed then, as I do now, that the voters of the Northeast in the 13th congressional district deserve a full time candidate and the constituents and taxpayers of the 170th legislative district deserve a full time representative."
MacAleer continued: "Brendan feels that he has a right to run for a Washington position in Congress and a legislative position in Harrisburg. The voter's will not buy it, and I will not ask them to."
As it turns out, McAleer is an Administrative Officer for State Senator Mike Stack (D-Philadelphia). While Stack is currently a sitting senator, he is also running for Lieutenant Governor, the same situation that McAleer decries in the case of Boyle.
The last poll in the race was done by the Margolies campaign in August, and showed her in the lead of this wide field. Margolies takes 43%, followed by Boyle at 15%, Leach at 7% and Arkoosh at 2%. 31% were undecided.