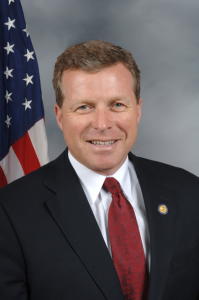 Charlie Dent is getting a gavel.
Rep. Dent, Republican Congressman from Pennsylvania's 15th congressional district, has been appointed as the Chairman of the House Ethics Committee in the 114th Congress.
"I appreciate the trust that the Speaker and my colleagues have placed in me for the last 6 years as I have served on the Ethics Committee," Dent said upon his appointment. "As Chairman of the House Ethics Committee for the 114th Congress, I will serve with diligence and integrity to ensure enforcement of the highest standards of ethical conduct."
"The Ethics Committee is a unique committee because it is made up of an equal number of members from each party," Dent continued. "It must operate in a truly bipartisan manner. Some of the strongest relationship I have forged with colleagues, on both sides of the aisle, have been through my work on the Ethics Committee. I look forward to continuing to work in that manner to provide the accountability and transparency the American people demand of their elected leaders."
The House Ethics Committee enforces the standards of official conduct for members of the U.S. House of Representatives. The House Ethics Committee is evenly divided among Republicans and Democrats, with five members from each party on the Committee.
"Charlie Dent is the epitome of what an Ethics Committee chairman should be: he is thoughtful and well-respected on both sides of the aisle for his integrity and good judgment," John Boehner, the Speaker of the House, said. "The American people expect the highest standards of conduct from their elected officials, and I'm confident that under Charlie's leadership, the Ethics Committee will continue to ensure accountability and protect the public trust."