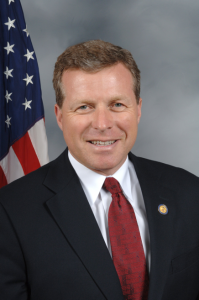 Rep. Charlie Dent's took a flight to Nantucket with top campaign donor, David Jaindl and it's causing quite the stir.
According to a Politico report, the trip was approved last year by the House Ethics Committee through a waiver.
While Dent served on the Ethics Committee at the time, and is now the Chairman, his spokesman Shawn Millan states that he had "nothing to do with the review or approval of the waiver request and received the same consideration as every other similar request."
The waiver was issued because of a "personal friendship" between Rep. Dent and Jaindl, according to the Congressman's financial disclosure form. Apparently, the two have been friends for more than 20 years. This is also the first time in his congressional career that Dent has disclosed a gift on this form.
Jaindl, the campaign donor, paid for a $5,500 flight for Dent and his wife from Allentown, Pennsylvania, to Nantucket, Massachusetts. From 2003 to 2014, Jaindl has also filled Dent's reelection account with $25,700 in political contributions. Throughout the entirety of his congressional career, the Federal Election Commission logs $134,000 in donations from Jaindl.
When Dent was a State Senator, he maneuvered to rename a portion of the Route 222 bypass to honor Fred Jaindl, a deceased member of the Jaindl family.
Politico's piece also points out that the Jaindls held a fundraiser for Dent's reelection campaign in 2014 called "Run for the Roses", where donors pledged between $500 and $2,600.
Congressman Charlie Dent represents Pennsylvania's 15th District, which includes parts of Berks, Dauphin, Lebanon, Lehigh, and Northampton counties.