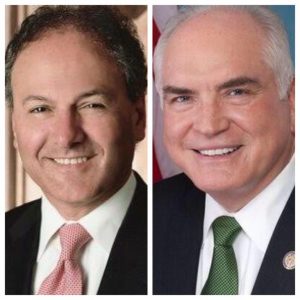 The Democratic Congressional Campaign Committee likes what they've seen in the 16th District, so they've changed placed the race on their "highly competitive" Red to Blue program.
Ron DiNicola, an Erie Attorney, is the Democratic nominee facing incumbent Rep. Mike Kelly (R-Butler) for Pennsylvania's newly drawn 16th Congressional District.
The DCCC's Red to Blue program assists "top-tier candidates" with fundraising, staffing, training, and strategic advice. DCCC Chairman, Ben Ray Luján, was impressed with the work DiNicola's campaign has done thus far which led to its decision to step in the race.
"A Marine, veteran and Golden Glove Boxer, Ron DiNicola has never backed down from a fight," Luján said. "Ron has successfully fought the federal government to get health insurance and job training benefits for workers who had been laid off, and will bring that same determination to ensuring that the people of Pennsylvania's 16th Congressional District have a voice in Congress."
The introduction of the DCCC to the race in the 16th District makes Kelly's campaign believe his opponent is the type of politician the progressive wing of the Democratic party wants in Congress.
"It's not surprising to see that Nancy Pelosi is trying to prop up Ron DiNicola's campaign," said Mike Barley, Kelly campaign spokesman. "He is exactly what Pelosi is looking for in Congress. He is a left wing, pro-choice progressive who personally donated to liberal Congresswoman Maxine Waters campaign.  He even had far-left Massachusetts Senator Elizabeth Warren personally solicit fundraising dollars for his campaign."
DiNicola saw the news as a positive result due to his position on protecting entitlements.
"Clearly our message of fighting against special interests and protecting Social Security and Medicare is resonating with voters," DiNicola said.
The new 16th district voted for Trump by over 20 points.
Kelly's campaign believes its stance on taxes, treatment of veterans, energy, and education will lead to his reelection.  
"Congressman Mike Kelly has been a powerful voice in Congress working to create jobs, reduce taxes on hard working families, taking better care of our veterans, creating an environment to encourage our nation's energy independence and ensuring each child gets a quality education," said Barley. "The hard-working people of the 16th District know Congressman Kelly is fighting for them, not Nancy Pelosi."
Last week, Cook Political Reports David Wasserman changed the race from "Likely Republican" to "Leans Republican".