Attorney Tom Houghton officially announced his candidacy for the Democratic nomination in Pennsylvania's 16th congressional district.
Houghton is a former state representative who represented Pennsylvania's 13th House district — an area that encompasses parts of Chester County. He was elected to the state legislature in 2008 but was defeated in 2010 by Republican John Lawrence, whom Houghton had previously defeated in the prior election.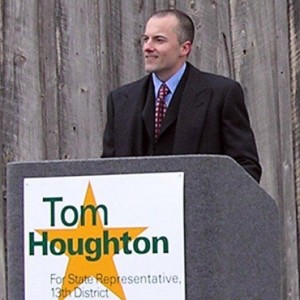 Houghton will campaign against incumbent congressman Joe Pitts, who has served Pa.'s 16th district since 1997. He will be seeking his 9th consecutive victory.
Pitts has a large base of support in his district that includes Lancaster County, as well as parts of Chester County and Berks County. In 2012 he took home more than half the vote in a four-way race, defeating Democratic candidate Aryanna Strader by a 16 point margin.
Houghton's name has been tossed around as a possible Democratic challenger for the 16th congressional district seat — most notably by the progressive website MoveOn.Org. MoveOn had a petition on their site to try and entice Houghton to run. Apparently the former state representative was convinced to give it shot.
Houghton has recently complained about the tactics and views of the Republicans in the House of Representatives.
"I'm tired of Republicans who believe that compromise is a synonym for treason," Houghton told the Daily Local News. He called the recent government shut down "the last straw."
Pitts released a statement later welcoming Houghton to the race.
"The genius of our democracy is the competition of ideas. I welcome Mr. Houghton to the race, and look forward to presenting my positive and proven record of working for the financial security of every family in the 16th District," Pitts said. "As I have always done, I will continue to travel throughout the district, listening to people's ideas and concerns. I will share my record and my vision for the future."
To Houghton's benefit, Pitts' support base could be slightly smaller than it has been in past years. In October of last year, PolitcsPA reported that Pitts lost a simulated election against an unknown Democratic challenger by 4 percentage points. The poll was commissioned — quite coincidentally — by MoveOn.org and conducted by Public Policy Polling.
Pitts' campaign team also seem unfazed by Houghton and his MoveOn.org backing.
"The only support Tom Houghton has at the moment is from the left-wing organization Moveon.org," Jason Ercole, Pitts spokesman, said. "It should surprise and worry people that Houghton has  chosen to team up with an organization that called General David Petraeus a traitor and compared George Bush to Adolf Hitler. The Daily Show's John Stewart once 'congratulated' Moveon.org for '10 years of making even people who agree with you cringe.'"