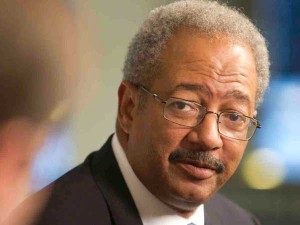 A witness stand near you could have a star-studded lineup next May as Rep. Chaka Fattah's corruption trial kicks off.
Sen. Bob Casey and former Gov. Ed Rendell have been listed as two of 122 potential witness the Department of Justice will use in their case against Fattah. The Philly Congressman has been charged with 29 counts of racketeering, bribery and fraud – among others.
State Sen. Vincent Hughes, as well as Philly elections attorney Greg Harvey and GOP donor William Sasso, may also take the stand for the government. Sasso, however, said he doesn't know what he could add to the DoJ's case against Fattah.
"I can't imagine anyone's calling me for anything," Sasso told the Inquirer. "It doesn't make any sense."
The DoJ may call Casey as a witness to Fattah's alleged role in seeking an appointment for Herbert Vederman, a "well-connected" Philadelphia lobbyist who has been charged with bribing Fattah.
Rendell could face possible questions from DoJ lawyers over a fundraiser he held for the 11-term Democrat from Philadelphia, according to the Inquirer report.
The names were revealed today by Fattah's lawyers – 22 in all – in an effort to gain permission to remain in contact with them until his trial date on May 2 – less than a week after Fattah will face a primary challenger for the first time.
"The government's proposal that Mr. Fattah only be allowed to speak to persons identified as potential witnesses under his employ does not take into consideration how often the congressman consults with individuals who are not on his current staff," Fattah's lawyer wrote in a motion on Tuesday. "On a near-daily basis, engaging such individuals – some former staffers – may be required to address representative matters."
UPDATE: Sen. Casey's spokesman John Rizzo sent the following statement to PoliticsPA:
"In November, 2008, Senator Casey's office received a letter from Congressman Fattah on behalf of Mr. Vederman. After Barack Obama was elected President, Senator Casey's office sent the names of over 200 Pennsylvanians, including Mr. Vederman, who had expressed interest in serving the country, to the Obama Administration. Other than his inclusion on that list, Senator Casey's office did not advocate for or otherwise help Mr. Vederman."