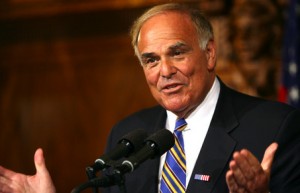 State Representative Dwight Evans continues to get positive news in his bid to knock off embattled incumbent Chaka Fattah.
He is leading in the polls, raising cash and has picked up endorsements from heavy hitters such as Governor Tom Wolf and Mayor Jim Kenney (although it shouldn't unsurprising they're supporting Evans since he also backed them early on in their respective races).
Now he's picked up the endorsement of former Governor and Philly Mayor Ed Rendell, with Rendell saying he will be a "Champion for Philadelphia in Congress."
"Dwight Evans is the best choice for the 2nd District and I'm excited to endorse him today," Rendell said. "Dwight Evans has dedicated his life to improving the lives of others and the neighborhoods where they live. He will do for the entire 2nd District what he's done for his small slice of Philadelphia, rebuilding neighborhoods block by block."
"No one in my lifetime has devoted so much to improving Philadelphia and the entire region then Governor Ed Rendell, and I'm so proud to gain his endorsement today," Evans responded. "I look forward to working with Governor Rendell to revitalize neighborhoods in the 2nd District with better, more affordable housing, jobs that pay, and continue to work to reduce poverty across our region."
Evans will face off against Fattah, Philadelphia Ward leader Dan Muroff and Lower Merion Township Commissioner Brian Gordon in the April 26th Democratic Primary.
The 2nd Congressional District consists of parts of Northwest Philadelphia as well as Southwestern Montgomery County.