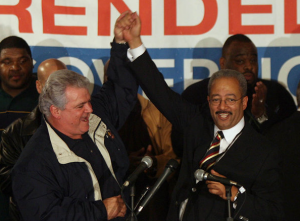 With a Democratic primary and federal trial quickly approaching, Congressman Chaka Fattah is looking to build up much-needed support.
PA Rep. and Chairman of the Philadelphia Democratic Party Bob Brady told Jonathan Tamari of the Inquirer he will be supporting Fattah in the primary – slated for April 26th.
"I'm for Chaka, innocent until proven guilty," Brady said. "I don't switch. I'm supporting him."
Fattah has also picked up the endorsement of Philly's Black Ward Leaders association, but it will not be easy for the 11-term lawmaker.
Fattah is facing Democratic challengers for the first time since he won a seat in the U.S. House of Representatives in 1994, with long-time State Rep. Dwight Evans, Lower Merion Township Commissioner Brian Gordon and Philly Ninth Ward Leader Dan Muroff looking to replace the troubled Congressman.
State Rep. Brian Sims is also running to represent PA's 2nd district, though he will also be campaigning to keep his seat in the State House.
Fattah has been charged with 29 counts, including bribery and racketeering. His trial is set to begin on May 2nd, less than a week after the Democratic showdown for his seat in Congress.