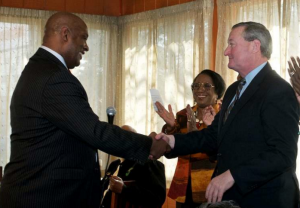 Philly's top politicos are taking their sides in the PA-2 Democratic primary.
Mayor Jim Kenney announced today that he is endorsing State Rep. Dwight Evans' campaign.
"Now, more than ever, we need a Congressman who will inject energy into solving some of urban America's most pressing problems: poverty, long-term joblessness, education, and housing," Kenney stated. "Dwight Evans will be that Congressman."
"No one loves Philadelphia and our people more than Dwight Evans," he asserted.
"It's Dwight Evans who passed a law to build the convention center downtown. It's Dwight Evans who brought back tens of millions of dollars for our public schools. And it's Dwight Evans who has been praised by the Obama administration for his work to end food deserts, bringing grocery stores into underserved areas in order to provide fresh food options and combat hunger and create good jobs," Kenney concluded.
Evans supported Kenney during his mayoral campaign last year and his endorsement was seen as crucial to the Mayor's victory. Now, Kenney is helping the State Rep. in his race against embattled incumbent Congressman Chaka Fattah.
Other Democrats seeking the nomination include Lower Merion Township Commissioner Brian Gordon, Ninth Ward Leader Dan Muroff and State Rep. Brian Sims.
The 2nd Congressional District consists of parts of Northwest Philadelphia as well as Southwestern Montgomery County.