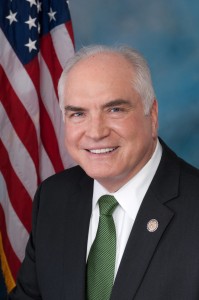 Congressman Mike Kelly began circulating petitions to run for re-election in Pennsylvania's 3rd District.
"I am motivated and energized to run for another term because I believe I have played – and can continue to play – a major role in fixing what is wrong in Washington," said Kelly.  "I remain steadfast in my commitment to restoring the American people's faith and trust in their government.  Just as important, I will continue to advance an economic agenda that will grow jobs through a fairer tax system and promote our home-grown energy resources.  You hear a lot of talk about which nation will be the next great emerging economy these days, and I say you should look no farther than right here in America."
Kelly said he was inspired to run for Congress after years of being a successful small business owner and experiencing the wayward ways of Washington. At that point, he wanted to change the course of Congress and decided to run himself.
"I promise to continue to ask the tough questions and demand accountability from the reckless government agencies and officials that have failed the American people," added Kelly.  "We are not benevolent monarchs but elected stewards entrusted with the taxpayers' money.  We owe it to those taxpayers to ensure their government works for them in a fair, impartial, and efficient manner."
Kelly also spoke about taking up an "all of the above" stance on energy. He believes that energy independence should be one of the country's top priorities. "Energy independence means more family-sustaining jobs, improved national security, and a cleaner environment.  With the development of natural gas, renewables, and clean coal, the towns and workers of Northwestern Pennsylvania can be at the heart of this revolution."
In his quest to continue running Pennsylvania's 3rd District, Republican Kelly faces three Democratic challengers: Dan LaVallee, veteran Rob Joswiak and veteran Matt Ryan.
The 3rd Congressional District covers a good deal of NW Pennsylvania, from Erie to Kittanning, and includes Armstrong, Butler, Mercer and Crawford counties, as well as parts of Erie, Clarion and Lawrence counties.
It strongly favors a Republican, and Cook Political Report gives in an R+8 PVI.